As Africa's most popular sports, football has continued to enjoy huge followership with many betting enthusiasts hoping to make huge returns from it. To widen the winning potential a little further, virtual or simulated football is also gaining ground gradually on the continent.
Simply put, Virtual soccer is a system-generated game that allows lovers of football stake and win real cash at anytime, whether on or off season. Unlike real football matches where punters will go through the intrigues of waiting for the final whistle or extra time as the case maybe, virtual soccer action are completed swiftly, thereby giving punters the chance to stake as many times as they want. The excitement it brings and the quick way matches are completed has made virtual soccer betting an integral part of top betting sites in Africa.
With huge customer base, attractive offers and juicy promos, Bet9ja has over the years tailored its services to suit the demands of all its users in Nigeria. Asides this, the betting industry in Africa is becoming increasingly competitive. Hence, to remain top of their Nigerian contenders, Bet9ja has also added the Virtual Zoom Soccer to its platform.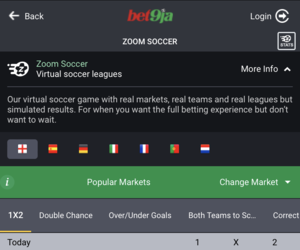 What is Bet9ja Zoom?
One of the most prominent virtual soccer betting tool in Nigeria, Bet9ja Zoom soccer is a virtual soccer game that features real team names and real teams in the top leagues across Europe but with a totally simulated result.
Bet9ja Zoom allows you to stake on and win real cash from virtual football matches that covers such leagues as the English Premier League, the La Liga, Serie A, French Ligue 1, Bundesliga among others. To help you differentiate teams featured in the Zoom soccer option from real football teams, the letter "Z" is written beside each of the leagues.
For instance, if you are picking matches from the Bundesliga, you will find it written as "Z- Bundesliga". Also, teams under this league will be written with Z next to their name. In this case, a Bayern Vs Dortmund zoom soccer game will be displayed as "Z-Bayern Vs Z-Dortmund" as shown in the image: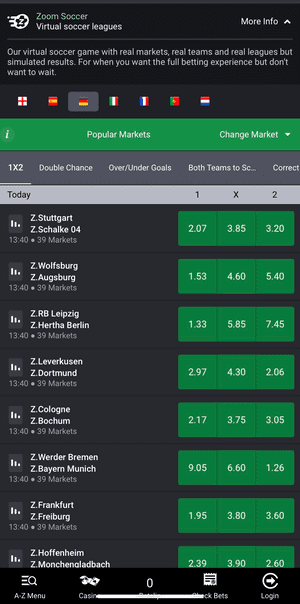 To save you the hassle and emotional stress usually associated with real football betting, Bet9ja's Zoom soccer are concluded within 2 minutes, meaning you can bet at any time of the day.
Our victor predictions are available to guide you through your daily betting exploits.
How to play Zoom soccer
Bet9ja offers simulated football action on a 24/7 basis. Whether its the Premier League or even the Eredivisie, Bet9ja virtual soccer has you covered all day, everyday. To get a bite of the cherry, you will need to do the following:
Register or log in to your Bet9ja account
Look for the Zoom soccer section on the top right side of the page
Choose your preferred league
Pick the market you wish to use
Make your single or multibet selections
Deposit a minimum of ₦100
Place your bet
It is important to note that, since the games are uploaded every minutes, you will need to have an effective internet service. This way, you will be able to enjoy all the action as much as other millions of users on the platform. Furthermore, you will have the opportunity to quickly re-stake and expand your winnings.
Which markets can I stake on?
As a top notch betting service provider, Bet9ja makes football betting an exciting adventure by providing a plethora of betting markets for punters to choose from. To keep bettors glued to the Zoom Soccer page, Bet9ja has replicated the real football betting options on all its virtual games.
No matter the Zoom match you are betting on, there is a variety of markets to choose from. They are 1×2, BTTS, HT/FT, Over/Under, Corners, DC, Combo, Home/Away, among others. Basically, all the markets available on normal football matches offered on Bet9ja sportsbook is available on the Zoom Soccer feature. Also, the rules that apply to these markets on real football are applicable on Zoom virtual soccer.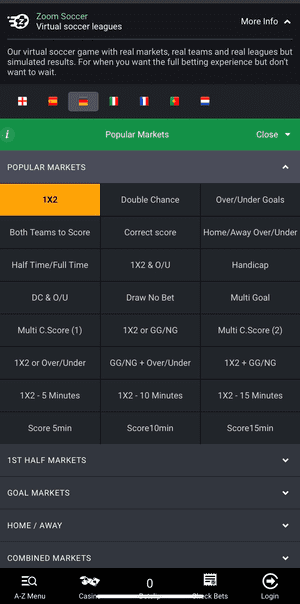 How many Zoom games can I pick?
Just like in real football, the Bet9ja Zoom Soccer allows you to exercise your knowledge of football betting by letting you decide which strategy you want to use. In this case, you can go with a single bet option or accumulator bet. Depending on your staking power and how much you are gunning for, the betting option you decide to use is entirely up to you as long as you play with the minimum stake of ₦100.
If you are choosing the multibet strategy, you will be rewarded with Bet9ja's 170% multiple boost to enhance your winning potential.
In case you are a fan of Acca betting, you can check our multibet section.
Can I combine real football and Zoom games?
Yes! To boost your winnings, you can have a betting slip with zoom soccer selection and picks from real life matches. In fact, this would give the chance to get the best of both worlds. With this, you will experience the thrills of real football and the excitement of virtual soccer unfold before your eyes.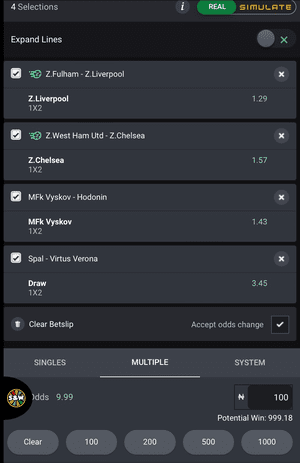 How much can I win?
With Bet9ja's Zoom soccer, you can win up to ₦10,000,000 on any single or acca slip. This means, if you carefully plan your selections and pick the right games, with just ₦100, a huge sum of ₦10,000,000 could be yours within 2 minutes. Once you win the maximum amount for the day, you would not be able to access the feature till the following day.
The amazing thing about this feature is the fact that you get access to real cash within minutes. For example, you place a single bet on Z-Premier League and you predict that Z-Crystal Palace will beat Z-Arsenal, the outcome of your bet will be known in 2 minutes. So, if the odds for Crystal Palace win was 5.00 and you staked ₦1000, you will be getting ₦5,000. This means you have won your money back in 5 folds in less than 5 minutes.
Meanwhile, you can check our Bet9ja Nigeria Sports betting Review for insights into other offers.
Conclusion
Since launching in 2013, Bet9ja has established itself as a big player in the Nigerian sports betting space by expanding its frontiers through juicy offers such as the Zoom Virtual Soccer. No matter your favorite league, betting style or experience, you could land a life changing sum of ₦10 million with a meagre stake of ₦100.
So, get your Bet9ja account running and start winning big via the Zoom Soccer tool!