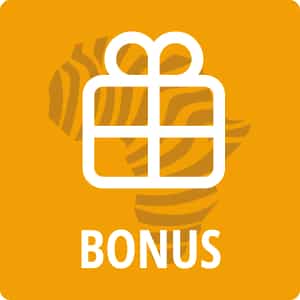 Almost all bookmakers offer various types of bonuses to attract and reward customers. The bonuses act as incentives to make customers sign up for new betting accounts, encourage more betting activity, and reward customers for their loyalty. When you open a new account with most bookmakers, you are likely to be offered a betting bonus for new customers. It is also called a registration bonus or sign-up bonus.
On this page, we display the latest betting bonus offers from the leading bonus sites on the African continent. The information covers details such as bonus percentage, maximum bonus limit, minimum deposit, bonus terms and conditions, wagering requirements, and availability in different countries.
More details of the different types of registration bonuses and information on the most common Terms & Conditions can be found HERE!
Betting bonus & Free bets on registration comparison
Types of registration bonuses
What is important to take into consideration as a new customer is that bookmakers utilize different types of registration bonuses. This is a consequence of varying strategies to attract more users from the ever-growing customer base of the betting industry. These bonuses are a terrific way to entice new betting enthusiasts and if taken advantage of and used correctly can serve as a great way to massively reduce the risk of losing money and ultimately lead to profits. The succeeding sections go through the most prevalent forms of registration bonuses in detail.
First Deposit Bonus
Arguably the most popular and widely-used registration bonus amongst bookmakers is the first deposit bonus. This means, the betting bonus is offered as a percentage of your first deposit, hence it is also called a first deposit bonus. This essentially signifies that once you open a new account and make your first deposit, the bookmaker will credit the account with an amount based on the percentage offered on your deposit amount. In order to clear the bonus amount and make it available for a withdrawal, the users are obligated to fulfill certain conditions that vary from bookmaker to bookmaker.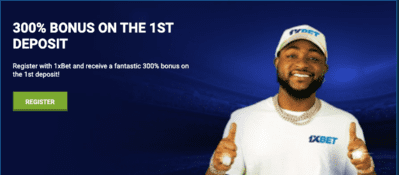 Let's take 1xBet's first deposit bonus as an example to ease the comprehension of what this type of registration bonus represents.
So, the bonus percentage as seen in the image, in this case, is 300%. This means that your bonus amount will be tripled i.e., in addition to your deposit amount, you will receive a bonus amount (usually depicted in bonus credits) that is three times your deposit amount.
Let's assume you deposit $100, this would mean you get your $100 and then 3 times this amount or $300 will be added to your balance meaning you'll end up with $400 in total.
For some bookmakers, as is the case with 1xBet, our team has managed to get a promo bonus code that you can use to get 30% extra on top of the 300%, meaning you'll end up adding an additional $90 to the whole amount. This means instead of getting $400, you'll get $490. The promo code for 1xBet is 1x_202496. Make sure to use it.
Cashback Bonus
Another type of registration bonus is a cashback bonus. The cashback bonus has been a new initiative that an increasing number of bookies are beginning to provide. What this entails is that newly registered users can get their bet amount back on the first bet they have placed up to a certain amount.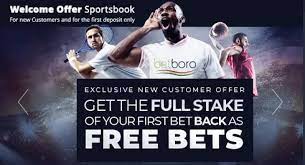 Let's take Betboro's Cashback bonus as an example to help you understand this type of registration bonus more easily.
In the case of Betboro i.e., a prominent bookmaker in Ghana, a Cashback bonus is offered in the form of Free Bets. As a result, new customers on their platform are eligible for free bets equal to 100% of their stake if they lose their first bet. Furthermore, if their first bet is successful, they are entitled to get 50% of their bet amount in free bets.
Let's assume you deposit $100 on their platform and decide to place the whole amount on an accumulator. If you are unsuccessful with your selections, you'll get $100 in free bets and you can have a second chance. On the other hand, if you manage to nail your selections, you'll not only get your winnings but additionally $50 in free bets on top as a result of their registration bonus.
Free Bet Bonus on Registration
Instead of a first deposit bonus, some bookmakers opt-in for the option of offering a free bet when you register on their service. As the name of this type of registration bonus suggests, users are entitled to a free bet of a certain amount arranged by the bookmaker.

Let's take Odibets's free bet on registration as an example. Once you register on Odibets, your account will be credited with a free bet that you can use to place a bet on a certain match chosen by them. Keep in mind that the free bet amount is usually small as is the case with Odibets. In their example, they give out GHS 3 in Ghana and KES 30 in Kenya. The amount might be minor and not very appealing, however, it must be reiterated that it's FREE and does not require you to deposit or anything in addition to that. All that is required is a simple registration.
Bonus terms and conditions
You need to pay close attention to the bonus terms and conditions as they determine if you will receive the bonus and how to use it before you can be able to withdraw your winnings. This is commonly referred to as "unlocking the bonus". Without fulfilling these conditions, you will not enjoy the bonus or winnings attached to it.
Some bookmakers will require you to indicate during registration that you want to participate in bonus offers. There may also be some promo codes to enter on the website to qualify for the bonus. For the first deposit bonus, there is a minimum deposit amount required.
There are certain conditions attached to using the bonus amount. It may be restricted to sports betting only, or even certain types of bets such as accumulators or pre-match bets only. There are also minimum odds, number of selections, and betting markets that apply when using the bonus amount.
The wagering conditions require you to wager several times the bonus amount before you can be allowed to withdraw your winnings. If the bonus was $100 with a 5x wagering requirement, you must bet up to $500 before you can withdraw the bonus winnings.