Our sports betting professional have taken a closer look at all the dozens of bookmakers on the market. We came up to suggest you the following list of betting companies as they are simple and the best in terms of: live betting offers, odds, bonus, mobile app, customer support and security!
Here are our TOP betting companies in Uganda listed! Further down on this site you can get more details about bookmakers in Uganda.

200% up to UGX 400,000
+ UGX 120,000 EXCLUSIVE bonus for betting-tips.africa users only! PROMO-Code: 1x_202496

50% up to UGX 200,000
unlock bonus: wager 3 times at minimum odd of 1,20

15% up to $ 60 in Bet Credits
Unlock bonus: wager 12 times qualifying deposit at minimum odd of 1,20

100% up to $ 100
+ $ 30 EXCLUSIVE bonus for betting-tips.africa users only!
PROMO-Code: BTA130
unlock bonus: wager 5 times at minimum odd of 1,40
Details for each betting site
Betway
Betway is an online gambling provider found in 2006. Headquarters are in Malta and Guernsey. Betway is fully licensed and has a very big betting offer . They specialized to operate on the African market some years ago.
international big player
one of the best mobile apps
very high security for all funds
welcome bonus is not very attractive
Betway review score card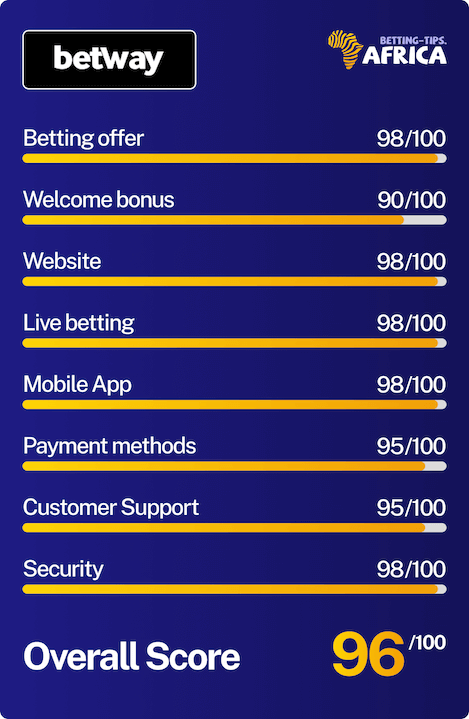 For further details about the bookmaker please visit our review for Betway Uganda
1xBet
1xbet is from Russia and operates worldwide. They are on the market since 2007 and become more and more popular in many African countries. 1xbet is becoming better and better and the betting offer, odds and support are really great!
just 1 click to register!
huge betting offer
one of the best mobile apps
customer support is slow
security is average, but becoming better
1xBet review score card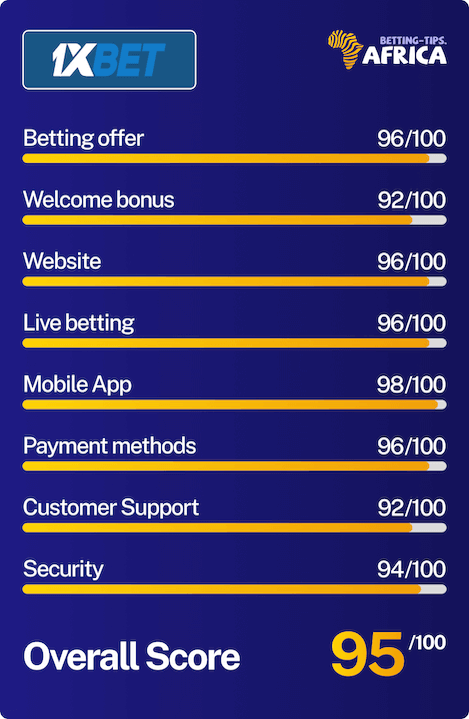 Want to get more info on 1xbet? Follow the link and read our review for 1xbet Uganda

Bet365
Bet365 is the biggest and best bookmakers in the world. The company is based in Stoke-on-Trent , England and under privat ownership. Bet365 is fully licensed and very trustful.
biggest bookmaker worldwide
100% security
top in all fields
no special African offer
no local support - but support is top
website is overloaded and slow
Bet365 review score card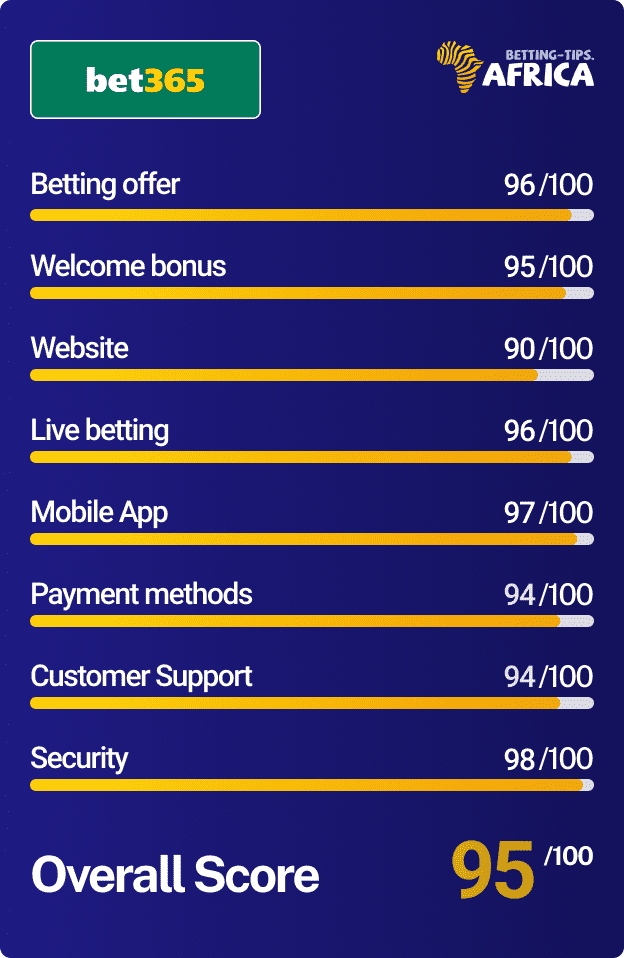 Go to our detailed bookmaker review and find more info about bet365 Uganda

Betwinner
Betwinner was established in 2018. The operator has a is fully licenced in Curacao and has its main office in Cyprus, Limassol. Betwinner is growing very fast worldwide and started to specialise on the African market.

welcome bonus is very attractive
betting offer is huge
top live betting and special events
mobile app needs a rebrush
limited payment methods
withdrawals take too long
Betwinner review score card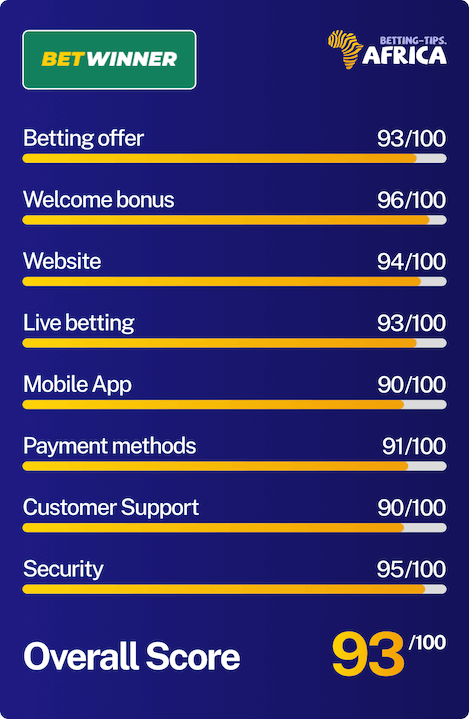 TIP: EXCLUSIVE offer from our partner betwinner: get 30% MORE bonus!!!


30% MORE Bonus
EXCLUSIVE: 30% more bonus for betting-tips.africa users!
Welcome bonus offer
PROMO-CODE: BTA130
Betfair
Betfair is the biggest online stock exchange in the world. The company was established in 2000 and went public for trading in 2010 at the London stock exchange. All operations are fully licensed.
Attention: Betfair may not be reachable in your Country – check it out please!
global player in sportsbook industry
very big betting offer
top mobile app - fast and easy to handl
welcome bonus is average
customer support is slow
Betfair review score card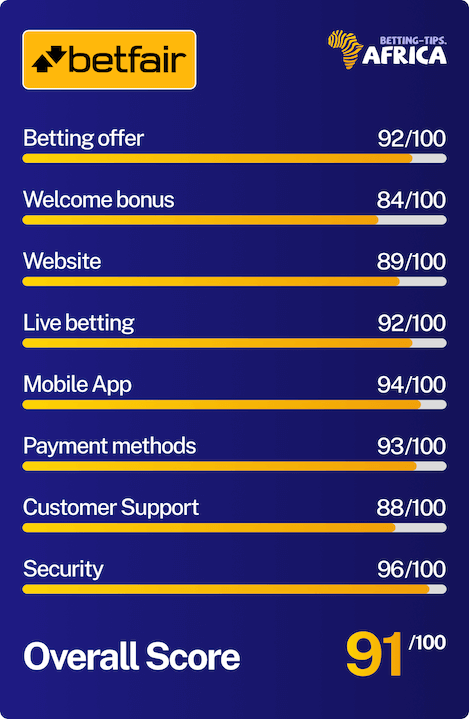 Here is our detailed review for Betfair Uganda
Melbet
Melbet Uganda started in 2020 after acquiring an operating license from National Lotteries and Gaming Regulatory Board. Due to its competitive offerings and excellent services, Melbet can be counted among the leading bookmakers in the Uganda getting industry.
Huge welcome bonus
Multiple payment methods
Mobile app for both Android and iOS
No mobile money
No live chat
Melbet review score card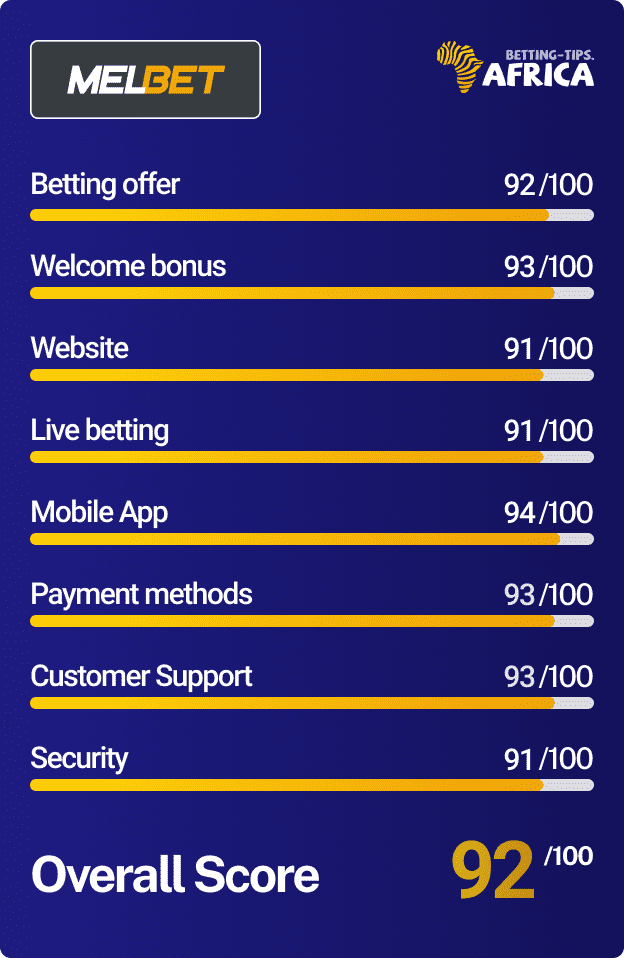 Find a detailed review for Melbet Uganda
Best Betting sites Uganda overview
Uganda is a country in Central Africa with a population of around 40 million. Gambling and online gambling are legal in Uganda. A betting site or online casino requires a license to be classified as a legal operator knowing it is secure and legitimate. Furthermore, the user also needs to register and verify themselves as a legal player ensuring both parties take their responsibilities into responsible gambling.
Nevertheless, there has been a lot of disputes as in many other African countries regarding the sports betting and online gambling in general. The issue has always finding the right balance between taxing bookmakers and online betting compared to the social and economic impact it has been having on the country as whole. Taking all of these aspects into consideration you can have a look at the best betting sites in the country linked on top of this site.
Licensing
The Lotteries and Gaming Regulatory Board under section 4 of the Lotteries and Gaming Act, 2016 is mandated to issue licenses for Lotteries, Casinos, Gaming and Betting in Uganda. The mandate includes Licensing, Supervision, Enforcement and dispute resolution.
Responsible Gaming
Responsible gaming strategy entails to counter problem gambling to a significant reduction. It will provide a comprehensive understanding of the gaming approaches as well as safeguarding the practitioners nationwide. It will involve various activities and approaches as remedy to problem gambling.
Legislation
The Lotteries and Gaming Act, 2016 gives the Board mandate to carry out it's functions. The Act is supported by a set of 5 Regulations which came into effect on 27th May 2016. The law mandates the Board to license and regulate the operations of lotteries, casinos and betting houses (Industry).
Why do I have to verify my betting account?
When you open an account with an online betting company, the enterprise needs to check who you are. It does this for three main reasons:
to confirm your identity
to check whether you have self-excluded from gambling
to check you are old enough to gamble
The bet company can often do this by looking at databases that hold a scope of information about people and matching that with the information on your account.
But there may be occasions when this information is not enough to be sure who you are. For example, if information has been spelt wrongly or people with similar names live at the same address. In such an situations you may be asked to provide copies of documents that prove who you are. This could include passports, driving licences and proof of address (household bills or water and electricity, etc).
This verification process is for your own security to ensure you receive back the hardworking winnings you have earned. You can always double check the data of the online gambling website you are using and if they are verified and secure.
Most popular football betting tips
Football is certainly the most popular sport when it comes to online betting. The fact that football and sports betting attract tons of money on a regular basis are undeniable. Sadly, most of the players are losing in the long run. The reason is simple, they have no strategy and try to guess what's going to happen in a certain match. This approach is almost guaranteed to fail in the long run, as the bookmakers always have an advantage thanks to the margin, they add to each betting market. Therefore, we look at some of the most popular strategies you could use to rather try and make some profits than just gambling on attractive odds by bookies.
The so-called accumulator bets are very popular. Simply put, you can select more than one match and place your wager on all of them. The odds on each selection are multiplied and you get an appealing overall price offer. Usually, there's no limit on the number of matches you can bet on. The most basic way to think about how accumulator bet odds are calculated is to imagine that each part of your bet winnings that comes off and pays out you take, and you then go and place the winnings on the next leg of your bet.
Another popular promotion across all bookies is the price boost on soccer matches. What this means is that the sportsbook will give you a boosted odd for a limited time on a certain match or market. It could be the match winner, both teams to score, the first goal scorer, or anything else.
The increased odds already give you an advantage, but you could go one step further and secure profit no matter what happens. In the case of a price boost, you could always make another bet on the other team and secure your bet, so it is a win/win either way with the increased odds. These are two of the most common use betting strategies, but you could find multiple other tips and boosts all over the betting web and always look for new ways to try and gain maximum profits.
Which bookmakers have the best welcome bonus for Ugandan?
As visible up in the table – we found out that the best welcome bonus offers for users from Uganda are available at the following bookmakers:
The best bonuses are offered by Bet365 – 15 % up to $ 60. Pretty good offers come from 1xbet – 100% up to UGX 500,000 and from Betway – 50% up to UGX 200,000!
What are the payment methods for Uganda?
What we can say in brief:
– Most payment methods are free of charge!
– Deposit and withdrawal are limited in amount – please refer to your bookmaker
Deposits and withdrawals from your betting account are available as follows:
Deposits
Creditcard (mostly Visa and MasterCard, Maestro), Royal Pay, Skrill, Perfect Money, epay, Webmoney, Jeton Wallet, Mybux, QIWI, bitcoin and other krypto-currencies, casual bank transfer, ATM deposit and store deposit. Many other payment methods available
Withdrawals
most of the payment methods for deposit are also available for withdrawals
NOTE: Withdrawals can take longer than deposits – ask support staff !
What else to check out in Uganda?
Here are the most popular offers:
In-Play betting events
casino and games
Virtual and eSports
Mobile apps
Also available at all bookamakers are MOBILE apps for betting. We can highly recommend to download the mobile apps of the bookmakers to all Ugandan users. The apps are built in AMP for lower data transfer!