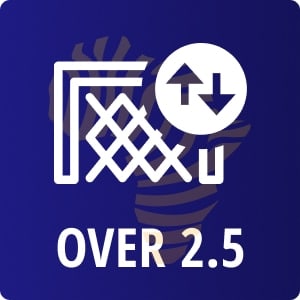 Over 2.5 Goals betting involves placing bets on the total number of goals in a match being 3 or more at full-time. It is one of the most popular types of bets in football betting. Over 2.5 goals bets go hand in hand with Under 2.5 Goals bets, which means that the total number of goals will be less than 3.
Over/Under 2.5 goals betting does not require you to pick the winner of the match or predict the outcome based on 1X2 predictions. As long as the match produces more or less than 3 goals in total as predicted, your bet wins.
Over 2.5 tips today & tomorrow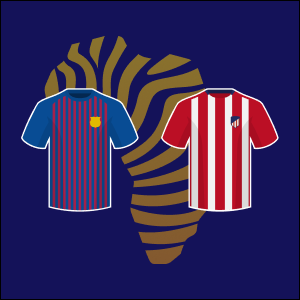 In midweek, Barcelona and Atletico Madrid secured their places in the knock out rounds of the UEFA Champions League with victories over FC Porto and Feyenoord respectively. And with that out of the way, attention will now turn to commitments in the Spanish topflight. Both teams are tied on 31 points each with only goal ... More
If you do not find up-to-date Over 2.5 tips, have a look at our page for the best football tips for today.

Over/Under 2.5 Goals explained
When you bet on Over 2.5 goals, the total number of goals scored in the match must be 3 or more at full time. For example 2-1, 3-0, 2-2, and 5-3.
A bet of Under 2.5 goals means that the total number of goals scored by the end of the match must be less than 3 goals. This applies to scorelines such as 0-0, 1-0, 1-1, and 2-0.
Over/Under 2.5 goals is the most common selection when betting on the number of goals in a game. It provides fairly good odds with a high possibility of winning.
There are other variations for betting on the number of goals in a match, such as over/under 0.5, 1.5, and 3.5. However, these selections are less popular because of relatively lower odds or less likelihood of winning. Betting on the number of goals can also target halftime results or either half in football.
Over 2.5 Goals betting tips
Betting on over/under 2.5 goals can bring you good returns on a regular basis once you master how to go about it. Some of the important considerations when making your picks include; team form, goals average, defensive performance, and difference in team strengths. A quick look at historical statistics will give you a good indication of which teams, matchups, leagues, and competitions are likely to produce over/under 2.5 goals per match. No matter whether you play an over or under bet, with our straight winning football predictions you are always on the good side.
Team form
There will be teams that go on a good run of form during which they are scoring plenty of goals and winning games. When a team is going on an unbeaten run, they will need to score in almost every game in order to win or avoid defeat. If there are records to break, they will fight even harder to get the goals and wins. As a result, their games are likely to produce at least 3 goals.
Even for teams that are not on an unbeaten run, the stats can show you whether they are scoring goals regularly. This means that their games are likely to have over 2.5 goals regularly whether they win or not. Additionally, a team that is going through very poor form are likely to be the whipping boys of the league. Such teams are likely to concede plenty of goals, especially when they play strong teams.
Head-to-head games
There are head-to-head games involving two teams that always produce plenty of goals regardless of the final outcome. This could be due to the two teams traditionally having good attacking sides or it could be the fierce rivalry that makes each team want to win. A quick look at the H2H stats between the teams will show you whether this is usually a high-scoring fixture or not. A good example of a high-scoring fixture is Bayern Munich vs. Borrusia Dortmund in the Bundesliga.
Similarly, H2H stats can indicate that a game is likely to end with under 2.5 goals. This happens between traditionally defensive teams. There are teams that cannot contemplate losing to their rivals and would rather defend more than attack. Such games are decided by a goal or two in most cases and even barren draws are common. A good example is the Basque derby involving Real Sociedad vs Athletic Bilbao in La Liga, which has produced under 2.5 goals in 3 of the last 4 H2H meetings.
Player/team selection
The presence or absence of certain players in the team can determine whether the match is likely to produce over/under 2.5 goals. First, when a team has its full-strength squad, it is more likely to get goals in their games. There are certain strikers or playmakers that are crucial to their teams' attacking performances and their absence will mean fewer goals. Similarly, a team missing its top defenders is likely to concede more goals. Sometimes the coach can decide to rest top players for a game and the replacements are not that good. In such a case, the team will be weaker and may get fewer goals. It is therefore important to look at the probable/actual lineup before placing your over/under 2.5 bets.
Read our best betting sites page to know which bookmakers offer high odds for Over/Under 2.5 bets and other types of bets.