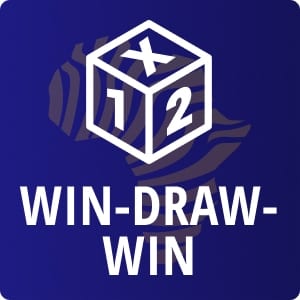 1×2 betting refers to placing bets on the three possible outcomes of a match, namely a home win, draw, or away win. It is also called three-way, win-draw-win, or match-result betting.
Windrawwin bets are among the simplest and most popular bets in football and other sports where there is the possibility of a draw such as rugby, handball, hockey, and American football.
1×2 tips today & tomorrow
Under the guidance of Pep Guardiola, Manchester City is delivering their best performance yet, remaining undefeated in their last eight matches. Their recent triumphs in the Champions League have boosted their confidence for another home game at Etihad. As back-to-back EPL champions, they trail current league leaders by just one point and have scored a ... More
If you are unable to find the latest 1X2 predictions, please visit our page for the best football tips for today.

1×2 betting explained
1X2 betting involves predicting whether a match will end as a home win, draw, or away win. The 1X2 characters represent the three possible outcomes:
1 – Home win
X – Draw
2 – Away win
In the win draw win format, the first 'win' is for the home team and the second 'win' is for the away team or visiting team. In case the match is being played in a neutral venue, one of the teams is designated as the 'home' team for the purposes of betting. The home team is always listed first in any fixture. For example:
Real Madrid 1.40 Draw 3.20 Getafe 5.30 means – Find more Real Madrid predictions and odds on our dedicated page
Real Madrid is the home team. Their odds are low because they are more likely to win
Draw always attracts good odds but is very hard to call
Getafe is the away team and is considered weaker in this matchup hence high odds
Win draw win bets are settled at full-time. It does not factor in extra time or post-match penalties. The 1X2 format can also be applied to variations such as match result at half-time or the outcome of either half. In such cases, it will be specified that the outcome is for halftime or either half.
When it comes to 1×2 bets we can highly recommend 1xbet, as they offer very high odds! Before you bet or register, claim your welcome bonus. Here is our promo code for 1xbet bonus for bet credits.
1X2 Betting tips
Even though they look simple and straightforward, 1X2 bets need careful analysis just like other types of bets. You need to understand what to consider to increase your chances of success when you place 1X2 bets. Predicting the match outcome from only 3 options may not be as easy as it looks. On paper, it looks like you only have a 33% chance of winning. However, the odds usually vary depending on the teams that are playing and the likelihood of the bet option happening. We provide more windrawwin tips on our winning Football prediction site
Team form
The current form of the teams is an excellent way of determining how the match is likely to end. Teams that are enjoying good form are more likely to win their games or draw the tough ones. Similarly, a team going through a bad patch will attract plenty of losses and struggle to get a win. We recommend looking at the team's last 5 matches to get a good picture of their current form. Details worth considering as part of team form include the number of wins, draws, and losses, goals scored and conceded, and opponents played.
League position
The position of the teams on the league table is important in more ways than one, especially after a substantial number of games have been played. First, it can be an indicator of the relative strengths of the teams. In general, strong teams are usually at or near the top while weak teams are lower in the league. The top/strong teams are more likely to win in a 1X2 bet. League position can also be an indicator for good or bad form. If a traditionally strong team is in the lower half of the table, they may be going through a bad patch and are not likely to win as usual.
Towards the end of the season, league position can influence a team's motivation going into any game. Teams with a certain target will fight hard to win. These include title contenders, Continental competition qualification places, and surviving relegation. In contrast, a team in a midtable position with no hopes of qualifying for Europe and no threat of relegation may not fight hard for wins. Furthermore, matches between teams that are close to each other on the league table have a high chance of producing a draw because there is little to separate them.
Team/Player selection
When a coach puts out their full-strength team, they are more likely to win compared to when they play a second-string side. The presence of certain key players is crucial for securing a good result. Sometimes coaches choose to rest their regular starters when they face a smaller opponent, or when preserving their stars for a bigger game to come. When a team is missing its big stars, even the opponents get the motivation to go for the win. Long-term injuries and suspensions to key players can affect the form and overall performance of the team. It is therefore important to try and find out which lineup is likely to get on the field.