On this page you can find betting tips for the UEFA Champions League. Our predictions are carefully analyzed by our sports betting experts. We therefore offer in-depth knowledge of tips with a high profit probability. If you scroll further down the page we give you deeper insights about betting tips and different bets you can make, furthermore we also provide you more information regarding the UCL.
Want to check out upcoming Champions League match odds?
List of Champions League tips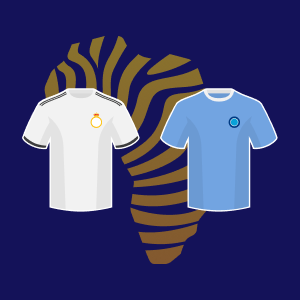 Real Madrid, led by Ancelotti, is currently sitting at the top of Group C in the UCL campaign, having won all their 4 UCL group games. Real Madrid's impressive performance this season has set the bar high for their fans and opponents alike. With an unbeaten record in their UCL campaign and a firm grip ... More
What kind of Champions League predictions do we offer?

You will get detailed information about the following variations of bets on the Champions League:
Single Bets and odds betting tips
for casual 1×2, double chance and over & under bets. Additionally, we present bets for correct score, halftime/fulltime, handicap bets or gg predictions for today etc.
Accumulator bets and odds tips
Sometimes it is advisable to combine more games to an accumulator bet instead of betting on just one single match. As all odds of a combination multiply the total odd for the accumulator can become very high and that leads to higher winnings.
System bets and odds
System bets like 2 out of 3 or 3 out of 4 are sometimes very advisable as you can combine more matches on your betting slip and take a higher risk. If the "risky bet/match" goes wrong, you do not lose the bet as you got one chance of failure.
Latest betting predictions
| Match | Date | Prediction |
| --- | --- | --- |
| Bayern Munich vs Union Berlin prediction | Sat, 02.12.2023 | Over 3,5 Goals |
| Mazembe vs Mamelodi prediction | Sat, 02.12.2023 | 1st Half Draw |
| Real Madrid vs Granada prediction | Sat, 02.12.2023 | Handicap -1 Real Madrid Win |
| Newcastle vs Manchester United prediction | Sat, 02.12.2023 | Both Teams to Score |
| Chelsea vs Brighton prediction | Sun, 03.12.2023 | Over 9,5 Corners |
| Liverpool vs Fulham prediction | Sun, 03.12.2023 | HT/FT – Arsenal/Arsenal |
| Manchester City vs Tottenham prediction | Sun, 03.12.2023 | Manchester City Win – Tip 1 |
| Barcelona vs Atletico Madrid prediction | Sun, 03.12.2023 | Barcelona Win (DNB) |
What do we analyze in our Champions League tips?
Our experts deal with a team or match in detail and can therefore provide you with their in-depth knowledge of the Champions League.
Our analysts are digging deep into statistics of a certain team. They analyze previous Champions League and domestic League matches. We take a look at home and away results, possible squads, info about recent performance, injured or booked key players and a lot more.
Moreover, all data collected will be combined with betting facts like odds and likelihood of a certain result. The outcome is a very precise forecast if odds are profitable.
For whom the Champions League tips are made?
We focus on users from African countries: Nigeria, Kenya, Ghana, South Africa, Tanzania, Uganda, Zambia and many other African countries. All our football betting tips today are 100% FREE OF CHARGE
Moreover, our betting professionals want to share their knowledge with you! The goal is to develop a very strong and experienced community of betting professionals.
More about the Champions League
Europe's premier competition was called European Champions Clubs' Cup from season 1955/56 up to and including season 1991/92. The competition was held in knock-out mode and at the first holding 16 club teams participated. Usually the respective national champions of the past season participated, however, this was only mandatory from 1957/58. At the beginning Real Madrid dominated this competition, as the "Royals" won the champions cup five times in a row. Over the years, the competition was gradually expanded and fundamental changes were made at the beginning of the 1990s. Already during the last season of the European Champions Clubs' Cup (1991/92) the classic knockout mode was eliminated and an intermediate stage with group matches was introduced in order to make the economic risk more calculable for all participants.
A year later the champions cup was renamed the UEFA Champions League. In the first years only the respective state champions could qualify for the Champions League, from 1997/98 onwards the runner-up of the top nations was also allowed to participate. Since the 1999/2000 season, up to four teams of one nation can qualify for the UEFA Champions League. This makes it even harder for smaller teams to qualify for the lucrative group stage of Europe's premiere competition. Tips for other competitions and Leagues can be found on out Football predictions section.
The playing mode
Initially, 10 teams are identified in four qualification rounds that secure their spot in the group stage through the qualification. The qualification is divided in two parts: the champion's path (only national champions) and a placement path (second to fourth place in a league). 32 teams participate in the group stage. 22 teams are directly qualified, plus ten clubs (five teams each from the champion's and the placement path) from the qualification rounds. The decisive factor for the number of participants of each nation is the UEFA-five-year coefficient ranking (UEFA coefficients). Besides the defending champion, the champions of the best twelve European leagues (measured by the status of the five-year ranking) as well as the runner-up of the best six leagues are automatically qualified. In addition, the third- and fouth-placed of the best four European leagues (currently England, Spain, Germany, Italy) are also qualified.
The 32 teams are divided into eight groups of four, with the draw being based on a division into four pots (the best teams according to the UEFA-club ranking are placed in pot 1). In each group, four teams will compete in a first and second leg. The first two of each group advance to the round of 16, the teams placed third move to the knockout phase of the UEFA European League. From the round of 16 onwards, the UEFA Champions League is played in knockout mode (with a first and second leg). The final is held in a neutral place and the winner is determined in just one game.
More about Champions League betting
The UEFA Champions League is, beside the English Premier League, the financially strongest League around the world. Betting activities are monitored very closely by companies for fraud prevention.
Our tips are only suggestions. Please do not blindly follow our analysis but think carefully before placing a bet. We are not liable for any losses you might make following our predictions. You need to be 18+ to be allowed to place a bet. Terms and conditions of respective bookmakers apply.