ATTENTION: 10Bet is NOT OPERATING in Zambia at the moment!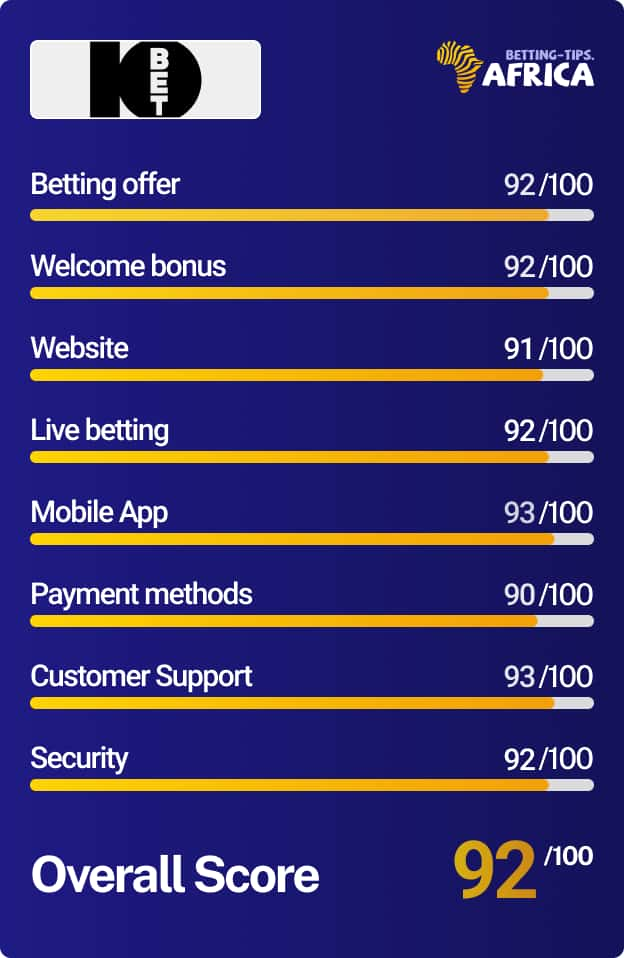 10bet is gradually establishing itself as a world wide player in the International Betting Industry. Having successfully captured a strong user base in Africa and Asia, it has developed and adapted itself to become one the fast growing betting platforms in Africa now.
10bet is a sports betting and casino brand that was established in 2003. They cover 60+ sports with a thousand markets in total and are famous for frequent free bets which gives it a unique status.
Headquartered in Malta, 10bet is also known for its design and branding and has gotten many awards for its fantastic User Interface for both Desktop and Mobile Application.
They have created a special site for Zambia; www.10bet.co.zm which is operated by Supabets Limited, a company registered in the Republic of Zambia, and is regulated by the Lottery and Betting Control Board, which backs their credibility and legitimacy.
10bet has created a world class application for the Zambian users with the deposit and withdrawal systems linked to Mobile money which are processed extremely quickly. They offer a broad sportsbook and competitive odds and probably has the best design among all available betting sites in Zambia.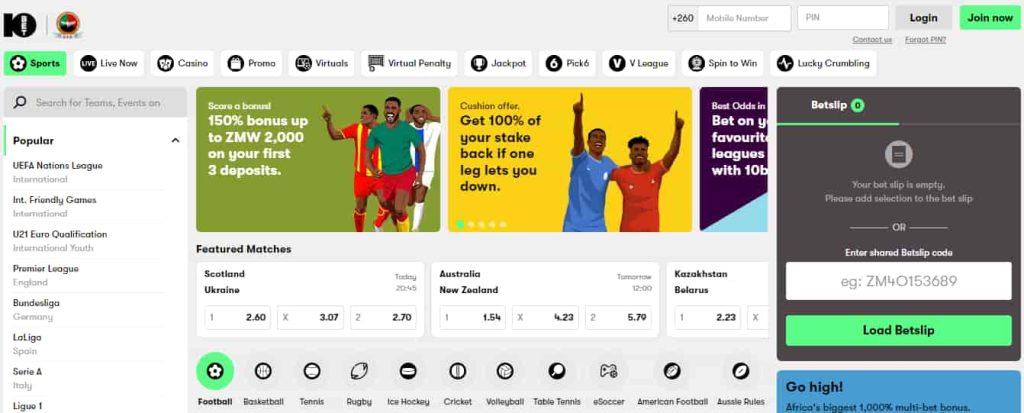 Most important Pro & Contra
Excellent User Interface
60+ Sports and 1000+ Markets
Free Bets and Other Bonus Offers
Limited Deposit Methods
No App for iOS
10bet quick facts
Founded in: 2003
Licences: Licence Number 000882; Casino Licence Number 0000037
Located in: Global
Security: Industry standard
Registered customers: >1 Million
Odd payout: approx. 95-96%
Welcome Bonus Zambia: 150% Bonus up to ZMW 2000 on your first 3 deposits
Website address 10bet Zambia: 10bet.co.zm
1) What is the betting offer of 10bet Zambia?
Sports betting
In the ever growing sports betting industry, 10Bet has been on the front foot and created one of the broadest ranges of a sportsbook in Africa with 60+ sports to bet on.
For football enthusiasts it covers odds from all the top European Leagues and also top divisions across Africa. It also offers really good odds compared to the local betting websites in Zambia.
The sports betting user experience is optimized by its mobile application which allows you to switch between different sports and from pre match betting to in play betting quite smoothly.
Aside from Football, Tennis, Basketball, Cricket, Motor Racing and such other games, 10bet Zambia also offers betting services on various Virtuals and Casino.
Find dozens of Football predictions on our homepage for free!
Markets
10Bet Zambia boasts of a thousand and more markets to bet on in its state of art website/application. For every sports betting category in 10Bet Zambia, there is a wide variety of markets to choose from.
If you bet in Football, you can not only stake on and win from such options as 1×2, Over/Under, DNB, Corners but also bet on player scorers, assists and other such special markets. With its high odds, their markets seem more appealing.
Live In-play
The Live In-Play feature on 10Bet Zambia is available on the top left corner of the page and has a very nice design and layout where betting can be done on current matches in play.
The user interface is extremely good and Zambian users will enjoy using the feature. The statistics displayed in the right hand corner for football, tennis and basketball matches are also quite detailed and provides sufficient information to make a well informed bet.
Cash-out
10Bet has a cash out feature where depending on how the match is proceeding, your cash out will change accordingly. This feature is extremely significant as when your selection is winning and there is a slight doubt of the final result a cash out is possible or if your selection is losing you can cash out whatever is possible.
Free Bets
10Bet provides its Zambian users with frequent free bets. These offers give you a chance at big wins with zero investment! They are the ultimate risk-free bet. 10Bet also has many other offers which we will cover below.
10bet.co.zm Zambia sports offer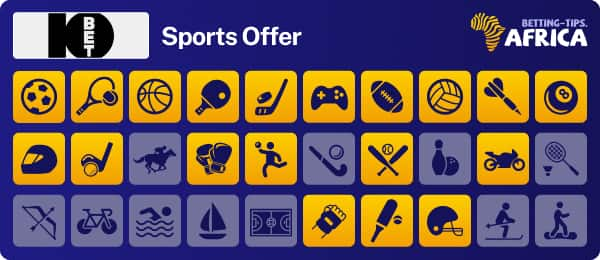 2) How to register at 10bet Zambia?
10Bet Zambia offers a very easy registration process for new users. To create a new account, navigate to the right hand corner of the page and click on "Join now".
Afterwards, enter your phone number and password, click register to complete. Having accomplished the previous step, you will be required to submit the 4 -digit code sent to the phone number you registered with. Get the code and input it in the box provided to verify your account.
Your account will be verified with your mobile number and you can only use the same mobile number for depositing and withdrawing through Mobile money.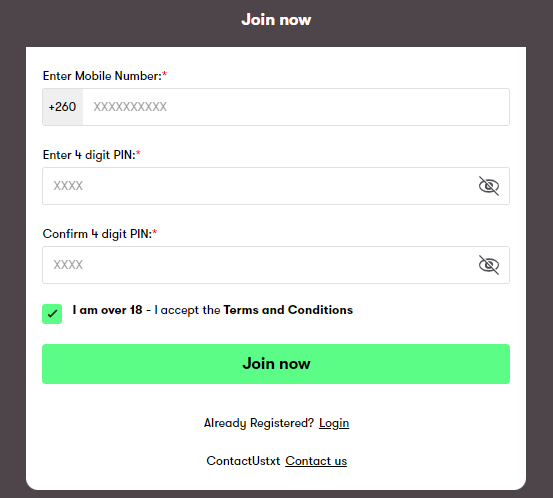 3) 10bet welcome bonus Zambia
10Bet Zambia offers one of the best welcome bonus offers in Zambia. It is a 150% bonus up to ZMW 2,000 on your first three deposits.
Deposit and bet with your real money to unlock a 50% free bet bonus up to ZMW 500. Bet to unlock the bonus to be played on 2+ combos of odds above 2.50. You will get two more offers on your second and third deposits.
150% Welcome bonus
150% bonus up to 2,000 🇿🇲 on your first three deposits
Unlock bonus:Combos of 2+ Selection with Minimum odds 2.50
You can check our comprehensive 10bet bonus page to get the most for your new registration.
4) Does 10bet have a mobile App for Zambia?
10bet Zambia has one of the best mobile applications among all the players in Zambia, and can be downloaded for Android users only. With Android being a popular choice in Zambia, this limitation is not so significant.
The 10bet app is extremely user friendly and has a sharp display. The Live In Play markets, Cash out feature and payments are more appealing on the application.
Interested in more details for the app? Take a look at our 10bet app review!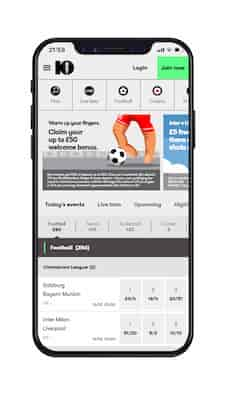 5) Which payment methods does 10bet offer?
Deposit methods
There are only two deposit methods in 10Bet Zambia which are also largely the main two methods used by Zambian sports bettors. These are the options of Airtel Money or MTN Mobile Money. As Mobile money is a popular source in Zambia, this allows 10Bet Zambia to operate efficiently with only two methods.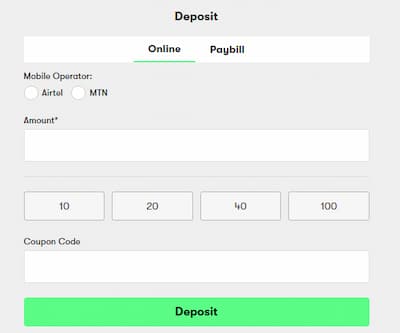 Withdrawal methods
The withdrawal methods are similar to the deposit methods. You can only withdraw back to the Airtel Money account or MTN Mobile Money account from which you had used to make the deposit. The minimum withdrawal is of ZMW 2.
6) How to contact 10bet Zambia?
10Bet Zambia has a dedicated customer support team, one of the key segments it believes it needs to deliver in as it intends to compete globally.
You can reach out by Email to support.zm@10betafrica.com, you can use the live chat option which is 24×7 available.
They also have a contact us form upon which when you finish you the option for them to call you back or email you back. For call back option, their lines are open everyday from 12pm – 4pm Zambia time.
7) Is 10bet serious and secure?
In order to establish itself in the Zambian betting market, 10Bet has ensure they are fully secure and regulated at all the right levels.
Registered as Supabets Limited in the Republic of Zambia, it is regulated by the Lottery and Betting Control Board, Licence Number 000882; Casino Licence Number 0000037. Their office is at Supabets Limited, Farm 396A, Makeni Road, Makeni, Lusaka, Zambia.
Regulated by the Lottery and Betting Control Board
Safe payment gateway
Local Office and 24X7 Customer Support
8) Conclusion for 10bet Zambia test
10bet Zambia has the potential to be the leading sports betting website in the country. Its website and mobile application are at a world class level and their payments are extremely quick. They are the most reliable bookmaker for the following reasons:
Excellent User Interface on Website and Mobile Application
Comprehensive Sportsbook with highly competitive odds
Mobile App for Android
60+ Sports and 1000+ Betting Markets
Excellent Sports betting and Bonus offers
Overall, 10Bet Zambia scores 92/100 on our bookmaker test