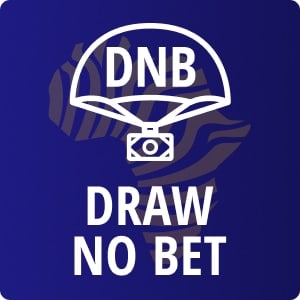 Draw no bet (DNB) is a type of bet that allows you to bet on a team to win with the knowledge that you will be refunded your stake back if the match ends in a draw. If your team wins, you win the bet. If the match ends in a draw, you neither win nor lose, and your stake remains untouched. You only lose the bet and your stake if the team you picked loses the match.
DNB bets provide a great way to reduce risk when betting. You are able to get your stake back when your team does not win but manages to avoid a loss. This is better than losing the bet and the stake altogether.
DNB predictions today & tomorrow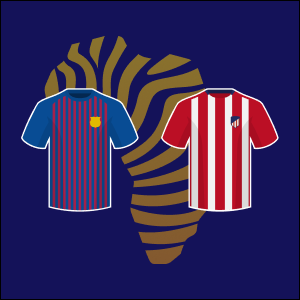 In midweek, Barcelona and Atletico Madrid secured their places in the knock out rounds of the UEFA Champions League with victories over FC Porto and Feyenoord respectively. And with that out of the way, attention will now turn to commitments in the Spanish topflight. Both teams are tied on 31 points each with only goal ... More
TIP: If you cannot find the latest DNB predictions, please visit our page for betting tips today.

Draw No Bet (DNB) Explained
When using the Draw No Bet (DNB), you are picking a particular team to win for your bet to be successful. If they lose the match, you lose the bet. However, you recognize that the match may end in a draw. In this case, you get a chance to recover your stake if the match ends in a draw.
DNB eliminates the option of 'Draw' as a possible match outcome as is the case with three-way bets. You are only left to pick either home win (1) or away win (2). The bookmaker loses some advantage in this case since they do not earn money in case the match ends in a draw. The bet is settled on just one outcome for both you and the bookmaker.
Draw-no-bet odds are lower than outright home-win (1), draw (X), and away-win (2) odds. This is because the risk is also reduced in dnb bets. As a sports fan, you understand that even a sure result can sometimes turn completely before the match ends. For example, a red card or injury in football can change what looked like a sure win into a draw or loss.
Here is an example when using draw-no-bet bets:
Sevilla vs Getafe odds: Sevilla win 1.80, Draw 3.20, Getafe win 4.10
Draw no bet odds: Sevilla Win (DNB) 1.42, Getafe Win (DNB) 2.50
The odds are considerably reduced but you will still get good returns at a lower risk. DNB bets apply to the results at full-time only. In some cases, the draw no bet may be offered for in-play betting if the match goes into extra time.
When you use dnb bets as part of a double or multibet and the match ends in a draw, this dnb bet will not count towards settling the double or multibet. Only the other matches in the double or multibet will be considered. This way, you are protected from losing the entire multibet.
DNB bets are only available for sports that can end in a tie/draw. The popular ones include:
Football
Cricket
Rugby
Ice hockey
Boxing
Some sports are designed not to end in a tie/draw. There are ways of making the match produce a winner during regulation time, including tie-break and sudden death. Examples include Tennis, Basketball, and Sumo wrestling.
If you are interested in using the DNB betting market, we highly suggest you first check out our list of the best betting bonus sites and grab yourself a bonus beforehand.
DNB betting strategies
Here are some of the tips to consider when using draw-no-bet bets:
In-play betting
When placing live in-play bets, DNB offers a very good betting option. When a team is already leading in the match, their chances of winning are higher. They can hold on and even add goals to help them win the match. In case the opponents fight back and manage to equalize, the match will still end in a draw. By looking at the time remaining and other important match stats, you can be quite confident of a leading team winning the game. The DNB bet helps you to go for the win and provides cover in case of a draw.
There are matches in which the stronger team which you thought would be the outright winner falls behind. Such a team is still capable of fighting back in the game and earning a draw or win. However, the odds of the weaker team winning will be very attractive after they take the lead. You can place a DNB bet on the weaker team and hope they can at least avoid losing. Similarly, a DNB bet on the stronger team gives you a chance of recovering your stake if they manage a draw or winning in the end.
Nearly matched odds
For matches in which the teams are well-matched and the odds do not show a clear favorite, picking the match-winner can be quite hard. These are games that are likely to end in a draw but calling a draw outright is even riskier. You can reduce the risk by picking a DNB bet on the home team or the in-form team.