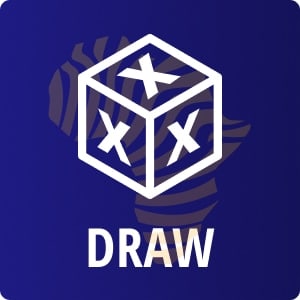 Draw betting predictions are a type of bet where two teams score the same number of goals in a stipulated time. In this case, can be in either half (45 minutes span) or full-time (90-minute span). The scoreline can be from a 0-0, 1-1, 2-2, or so on. You can place a draw betting for the 1st or 2nd halftime results, full-time or a combination of both the halftime and full-time. It is usually characterized with high odds as it, not an easy call all the time, hence has value for money.
The draw betting options are available in sports where there is the possibility of a draw such as a rugby, handball, hockey, and American football.
Draw tips today & tomorrow

Kenya will be looking to breathe some life in their world cup qualifiers campaign that has been punctuated by a run of draws and an embarrassing 5-0 loss to the visitors in their midweek encounter Mali on their part will aim to put a chokehold on this group after the terrific triumph and another win ... More
TIP: If you do not find up-to-date draw betting tips, please go to our homepage for best football betting tips for today.



Draw Betting Predictions Explained
When placing bets on the draw, you are choosing markets where you foresee an outcome where the results will end as a tie. This is an often-overlooked betting tactic since many punters have a natural preference for one side over another. However, it is a strategy that does have attractive odds.
The Draw market is always donated as a letter "X" meaning equal.
The most common guide to be able to know if the match will be good to place a draw bet is by taking a look at the goals scored in the previous head to head and the respective team's defensive play taking into consideration the goals conceded.
We will be looking at three markets where we do deploy the draw betting predictions:
Draw betting in full-time results that is "X"
In results where you predict the game will end Draw at the First halftime

In draw betting prediction for the Second half of the game
In case the teams will be tied at halftime and at full-time, the bet is: Draw/Draw or X/X
Here is an example which we will look at when betting draw
Arsenal vs Manchester United odds: Arsenal win 2.80, Draw 3.20, Manchester United win 2.10
In this case, we are looking at the first case scenario, where we have the Win/Draw/Win (1X2) market for full-time gameplay.
As mentioned, you can see the odds for the draw market are high. This is because the probability for a draw is low. When placing a draw bet in this match, it means you enjoy an odd of 3.20 which is a 31% probability for the event to be successful. You will expect the final scoreline to end on a tie e.g. 0-0, 1-1, 2-2, 3-3 after 90 mins.
There is as well the same market covering the first halftime results. The odd for the draw at halftime are generally lower than full-time as the likelihood for it to occur is high.
Example for a Win/Draw/Win (1X2) prices for the First halftime.
Everton vs Tottenham United odds: Everton win 4.04, Draw 2.09, Tottenham win 2.86. In this case, you can place a draw bet for the first half of the game.
The same can be applied for a draw betting prediction for the results of the second half. This takes into consideration only goals scored in the second half of the game. As in the case of the first half, the odds on the draw outcome is slightly lower than that of the full-time prediction.
An example a Win/Draw/Win (1X2) prices for the Second half of the game.
Everton vs Tottenham United odds: Everton win 3.58, Draw 2.47, Tottenham win 2.56.
Finally, we take a look where you can have a draw bet on both the halftime and full-time results; Draw/Draw or X/X. You predict that the halftime outcome will be a draw and that the match will finish in a tie at full-time.
Draw betting strategies
Here are few pointers to keep in mind when betting on the draw to reap the most benefits. To begin, you should be aware of:
The two teams' relative strengths
The time when both teams score goals
Attacking and defensive tactics from both teams
If both teams in terms of strengths are more equal, the likelihood of a draw is high. This can also be supported by past head-to-head clashes. You can then proceed and place a draw bet on the full-time scores. In most cases, most teams do try and be in the game at the first half while some are more aggressive in either of the halves. According to their tactics and gameplay, you can play a draw bet based on the first half or in the second of the game.
In a case where we forecast both teams being equal in both halves, we can now have the halftime and full-time draw bet; Draw/Draw or X/X.

Read our review of best betting sites to know which bookmakers have the best offers draw betting predictions.