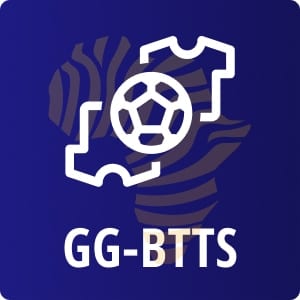 Both Teams to Score (BTTS) or Goal-Goal (GG) is one of the popular betting options available for football betting. The bet means that both teams participating in a match will score a goal regardless of the final outcome of the match. In case you feel that either one or both teams will not score, the selection is Both Teams to Score No (BTTS No) or No-Goal (NG).
GG/BTTS tips today & tomorrow

Guinea and Gambia are meeting for the first time and we expect a very intense and tactical match from both sides. Guinea have not lost any of their matches in AFCON and seems to be the stronger team here, but, they are coming off a 2-1 against Zimbabwe. Gambia are psyched up and motivated after ... More
TIP: Check out our free betting tips page for a full range of betting options covering all the top leagues and competitions across the world.

BTTS/GG bet is a good betting option as the chances of winning are a bit easier. You do not have to worry about which team will win or whether it will be a draw. As long as each team manages to score a goal (for BTTS/GG bet), or at least either team fails to score (for BTTS No/NG bet), you win the bet regardless of the final score.
It is important to understand when it is most appropriate to place BBTS/GG bets to increase your chances of winning. The place to start is the current form for both teams based on their recent results. You can easily see if a team is on a scoring spree or suffering a goal drought from their average number of goals scored for a given number of recent games. Nevertheless, bear in mind that form is temporary; a team may struggle due to injuries or suspensions to important members of their attack or defence. The situation will quickly change when the top players are back.
The teams' playing styles can be a good indicator of how to place your BTTS/GG bets. There are teams that are very good in attack but their defences are weak. As a result, they end up scoring and winning, but they also concede in the process. Such teams would be ideal for a BTTS/GG bet. Other teams focus on tight defending and narrow wins. In this case, you may consider BTTS No/NG depending on the opponent. For example: Many Italian Serie A teams are playing more defense – therefore a BTTS NO bet can be more likely!
The Head-to-Head (H2H) statistics can show you the trend whenever the two teams meet. There are teams that tend to score against each other regardless of the final outcome. This is quite common in derbies and fierce rivalries between top teams in the league.
Whenever you find it difficult to predict the outcome of a match based on 1X2, it is advisable to try BTTS/GG. You will find some teams are evenly matched in terms of strength, current form, squads, league position etc. Even a look at the 1X2 odds indicates that there is no clear winner anticipated. If you are to bet on such a game, BTTS/GG option presents a better chance of winning the bet.
Experienced punters often turn to BTTS/GG whenever they want to place pre-match bets but the kick-off is near. Since there is no time for a proper analysis of various team stats and information, BTTS/GG can be a good guess with a high possibility of winning.
Overall, BTTS/GG is a relatively safe bet compared to 1X2 and other options. Newbies who want to play safe as they gradually learn the game are encouraged to try this betting option.
Find out which betting sites in Kenya offer high odds for BTTS/GG bets and other betting options.