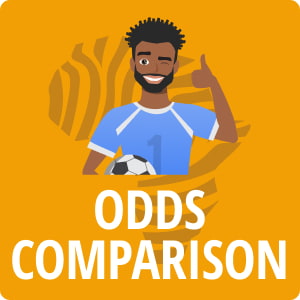 Odds comparison, as the name suggests, involves comparing odds from different bookmakers on the same event or betting market. The aim is to identify and bet with the bookmaker offering the highest odds in order to maximize on your profits.
As a pundit, you may have noticed that different bookmakers offer varying odds for betting. The differences in the odds can be quite significant. It therefore makes sense to find betting sites with the highest odds in the market to capitalize on. Similarly, if you are stuck with a bookmaker that offers relatively low odds, you will not be getting good value for your betting. We encourage you to follow our odds comparison page so that you can win more. Furthermore we recommend our football predictions for more insights, tips and analysis….
Why you should use the Samba Odds Comparison?
When you use our Samba Odds Comparison, you will find odds from the leading bookmakers in your country and across Africa. We offer odds for football and tennis events covering a wide range of matches, leagues, and competitions.
Football fans can enjoy odds comparison for matches in the most popular leagues in the world, including Premier League, La Liga, Serie A, Bundesliga, Ligue 1, Champions League, Europa League, and Conference League. We also have odds for the top upcoming tennis matches on the international circuit.
We have a team of experts whose work is to identify the best available odds and present it to you on this page. The odds comparison is updated regularly and in good time before the next round of games to give you enough time to make your picks before kick-off. There will be no need for you to frantically jump from one betting site to another to see the odds offered.
Using our Samba Odds Comparison Page will give you a better betting experience as you will be able to get higher winning returns in the long run. For serious bettors, the margins can make a huge difference when you stake high. Being able to see that you are betting with the highest odds available is also reassuring that you are on the right track.
Which betting site odds do we compare?
The Samba Odds Comparison brings you odds from the best betting sites in Africa. These are the bookmakers that are commonly used by betting customers in various countries in Africa. Our bookmakers are properly licensed and regulated in the countries where they operate. Here is a list of betting sites that we will feature:
We recognize that there is no one bookmaker that can offer the best odds for all matches or markets. The odds will always vary and it might not be easy keeping up with what is offered by several bookmakers. This is why we do the hard work for you so that you can find the best odds listed together on our page.
Which markets are covered by the odds comparison?
Our odds comparison targets the most popular betting markets that majority of our betting customers like to bet on. We have done thorough research to ensure that we bring you what you are most likely to be interested in. Here is a list of some of the markets that we commonly highlight odds for:
1X2
Double Chance
Over/Under
Handicap
Draw No Bet
Halftime/Fulltime
How does the Odds Comparison work?
With bookies offering varying odds for the same betting markets, it becomes difficult to know which bookmaker is offering the highest odds at any given time. Furthermore, your regular bookmaker maybe giving you relatively low odds yet you could get more from other bookmakers. This is where odds comparison comes in.
With odds comparison, we bring together odds from different bookmakers for the same markets. You are now able to compare and select the best offers just like you do when shopping for items. When used effectively, odds comparison can help you boost your betting winnings by a margin of more than 10%. This is huge in the betting world where margins count for a lot.
From our end, we scan odds from many betting sites in Africa and collate them to bring you the best offers. We have a team of experts who are dedicated to ensuring that the best odds offers are made available to you. Our systems are able to scan a high number of bookmakers in each country to bring you accurate results.
From the odds comparison, you can tell which bookmakers offer consistently high odds for particular markets. Therefore, even when you don't have time to do the odds comparison, you could always go to such bookmakers directly and be sure to get good returns.
Check out our review of the best bookmakers in Africa and discover lots of offers and rewards from different bookmakers in various countries across the continent.