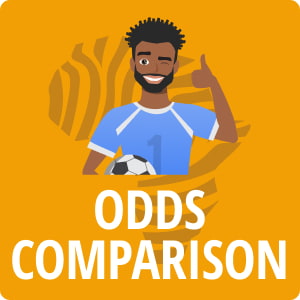 Welcome to the exciting world of sports betting! If you're looking for a way to enhance your gambling experience and maximize your potential winnings, then you've come to the right place. Introducing Samba Odds Comparison – your ultimate companion in finding the best odds across multiple bookmakers. Whether you're a seasoned bettor or just starting out, this powerful tool will revolutionize how you approach sports betting.
Gone are the days of endless scrolling through different bookmaker sites, trying to compare odds and make sense of confusing markets. With Samba Odds Comparison, everything is conveniently organized in one user-friendly platform. From setting preferences to finding the best odds for any market, we'll guide you every step of the way towards making smarter bets.
So, sit back, relax, and get ready to discover how Samba Odds Comparison can take your sports betting game to new heights!
Odds Comparison Tool
*find all explanations and tool settings down – full version available on betrepublic.io
*How to use the Samba Odds Comparison Tool
Using the Samba Odds Comparison Tool is incredibly simple and user friendly. Whether you're a seasoned bettor or new to the world of online betting, this tool is designed to make your life easier. To get started: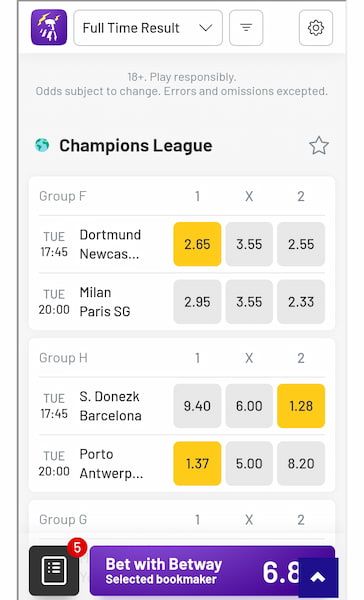 Visit the Samba Odds Comparison page – no registration, no login, no details needed
Customize your settings using the Settings Menu at the top right corner of the tool (click the WHEEL symbol)
Explore options such as "Favorite (Teams & Competitions)", Bookmakers, Default Markets, Odds Format, Currency Type, and Default Stake
The main interface of the tool displays all available matches with corresponding odds
Click on Sort/Filter button (top middle of tool) to narrow these matches using various criteria (Competition, Date, Live Matches, Favorites)
Choose your preferred market by clicking on "Available Markets" at the top left of tool
Start making your selections by adding events to your betslip
A PURPLE button pops up at the bottom, indicating the combined odds for all selected matches
The RED number to the left shows how many selections you made
Click on it, you can see your selections and accumulated odds
You can also copy the link of this accumulator and send to a friend
Finally, click on the purple accumulated odds button to get redirected to your desired bookmaker
And there you have it! You can make your wager on your preferred bookmaker
Special features and navigation
Samba Odds Comparison is packed with a plethora of features that will transmute the way you approach sports betting. Let's dive into some of these exciting features!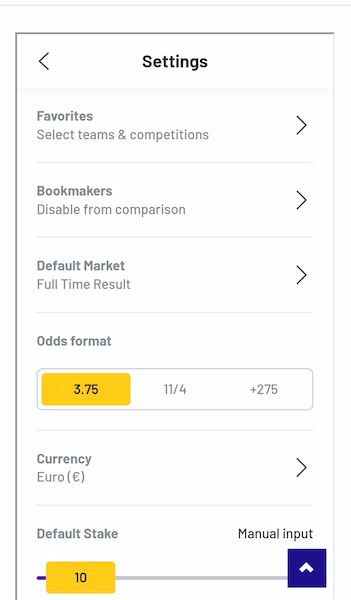 First up, we have "Settings Menu" at the top right corner of the tool (click the WHEEL symbol). This allows you to customize your experience on Samba Odds Comparison as you explore handy features like:
Favorites (Teams & Competition): As you look to keep tabs on specific teams and competitions, this exclusive feature allows you to mark your favorites, so you can easily access their upcoming matches and compare odds with just a click
Bookmakers (Disable or Activate for Comparison): With this tab, you have full control over which bookmakers are included in the odds comparison. You can simply activate or disable according to your preference
Default Market: Have a preferred market for your bets? Set it as your default market in the setting menu so that every time you open the tool, it automatically displays odds from that market
Odds Format: From decimal, fractional to American odds format, you can choose the format you are comfortable to work with
Currency Type: When it comes to currency type, we understand that our customers come from almost all the African countries. As such, you can set out the currency depending on where you come from or the currency you prefer
Default Stake: If you prefer a specific stake amount for bets regardless of market variations, the default stake setting is a handy feature. It automatically sets your desired stake amount every time you use the tool so that placing bets become even simpler
Privacy Policy: A tap on this feature will reveal into details how seriously we take privacy at Samba Odds Comparison. Rest assured that all your personal information is protected and handled securely according to industry standards
Away from the settings menu, we have the Sort/Filter button at the top center of the tool. This allows you to refine displayed matches based on various criteria like:
Competition type
Date
Live Matches
Favorites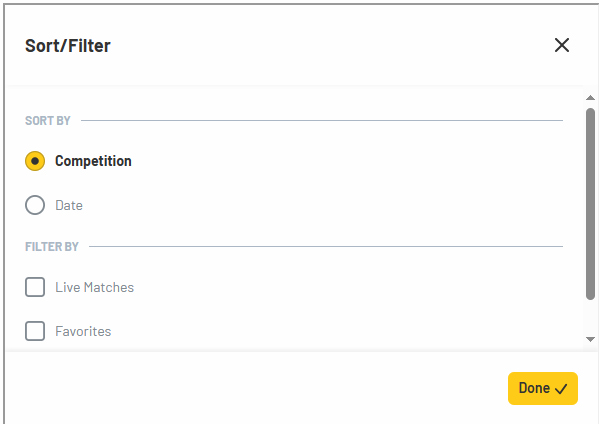 Next to Sort/Filter button to the left is the "Live" feature, a shortcut to access all live football games. With a single click on this feature, you can easily spot live matches as they're highlighted for quick reference – no need for endless scrolling!
Lastly, the top left corner displays the "Available Markets" feature. A click on this button will reveal all the available markets so there's no need to manually search for markets.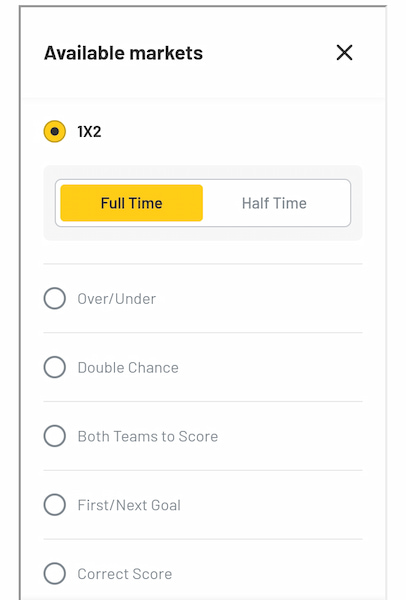 With these user-friendly features and navigations at your disposal, finding competitive odds across multiple bookmakers has never been easier! So, go ahead – take full advantage of what Samba Odds Comparison has in store and make informed betting decisions today.
Why should you use the Samba Odds Comparison?
In terms of sports betting, finding the best odds can make a difference in your overall profits. That's why the Samba Odds Comparison is so helpful.
The Samba Odds Comparison Tool is all about Convenience. Gone are the days of manually checking bookmakers' websites to find the best odds for your bets. With just few clicks, this tool lets you compare odds from various bookmakers all in one place. The Odds Comparison provides you with a user-friendly interface that makes finding and comparing odds a breeze.
To add to its expediency, Samba Odds Comparison is mobile-responsive, so, you can access it on your smartphone or tablet wherever and whenever you want. So, whether you are on the go or lounging at home, managing your bets has never been easier.
The tool also provides real-time updates on odds changes. Bookmakers are consistently adjusting their odds based on various factors such as team news or market demand. By using this tool, you can stay ahead of these changes and make more informed decisions.
Ultimately, the convenience and efficiency provided by Samba Odds Comparison translates to increased profitability for bettors like yourself. By optimizing your betting strategy through thorough research using this tool, you place yourself at an advantageous position compared to those who rely solely on intuition or limited resources.
So, why should you use the Samba Odds Comparison Tool? It's simple: convenience, efficiency, and increased profitability. With this tool by your side, enjoy a seamless betting experience as you navigate through markets with ease and confidence like never before!
Which betting site odds do we compare?
When it comes to comparing betting site odds, we leave no stone unturned. We understand that every better has their preferred bookmaker, which is why we strive to include as many popular sites as possible in our Odds Comparison.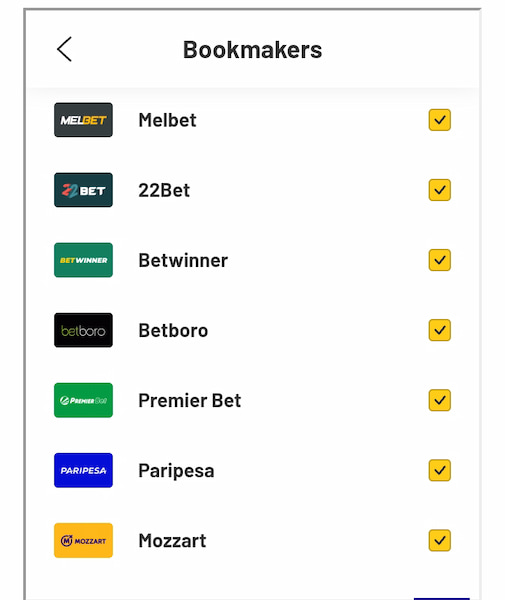 From household names to up-and-coming platforms, we make sure to cover a wide range of betting sites in Africa – all tried and tested to be legally operating in the countries they conduct their business. This useful tool allows you to compare odds from well-known bookies like:
Our team regularly updates our database with new bookmakers, ensuring that you have access to an extensive range of options when it comes to comparing odds. This way, you can be confident that you're getting accurate information and making informed decisions before placing bets.
So, whether you're loyal to a specific bookmaker or open to exploring different options, Samba Odds Comparison has got you covered!
Which competitions and markets are covered by the odds comparison?
At Samba Odds, we appreciate the significance of having a wide range of competitions and markets available for our users. We want to ensure that no matter what competition or event you're interested in betting on, we have you covered.
When it comes to competitions, our Odds Comparison tool includes the most popular and widely followed leagues from around the world. From top-tier football leagues/competitions like the English Premier League, La Liga, Bundesliga, Serie A, Ligue 1, Champions League, Europa League, Conference League 1, and many more to lesser-known competitions around the world, we have it all.
And when it comes to specific events within those competitions, rest assured that if there's an important game happening – whether it's a local derby or a high-stakes international clash – chances are you'll find competitive odds for it on Samba Odds Comparison.
But it's not just the competitions themselves; we also cover a vast array of markets within each event. From traditional markets to few exotic options, the following are some of the frequently featured markets:
Infact, one of our strengths is offering odds on many markets that are particularly popular with African bookmakers and punters. We recognize that African bettors enjoy exploring different betting options beyond just match results, so we make sure to include these markets in our Odds Comparison.
How does the Odds Comparison work?
Sports betting can be a fast-paced world and having the right tools at your disposal can make all the difference. Samba Odds Comparison realizes the importance of research when it comes to sports betting. Our team of experts scours multiple bookmakers and gathers data on various markets and teams, allowing you to compare odds across different platforms all in one place. We leave no stone unturned in our quest for valuable insights that can give you an edge in making informed betting decision.
Our research process involves delving into current performances of bookmakers, scrutinizing various markets per odds ratio, and taking into account other relevant factors such as the licensing status of bookmakers in Africa and those that offer free bonus on registration. By examining all these variables, we aim to provide you with accurate and real-time updates – only from the best. But what sets us apart is not just the depth of our data, but also how we present it to you. Our user-friendly interface allows you to effortlessly navigate through the vast number of helpful features we offer at Samba Odds Comparison.
The Samba Odds Comparison not only helps you find the best odds from multiple bookmakers, but it also offers a unique feature that allows you to have a link/code for a betslip. This code is like a digital betslip that contains all the information about your selected events. Once you have customized your bets and added to your betslip, you can simply copy the link and share it with your friends or fellow bettors who might be interested in placing similar bets.
Last but not least, from the tool, you can redirect to your preferred bookmaker to wager on your well-researched and curated betslip. This is where the magic happens! Once you're done with all the events you need in your betslip, it's time to take action. With a simple click on the blue accumulated odds button, you'll be redirected straight to your chosen bookmaker's website.
So why waste time jumping from one bookmaker site to another when Samba Odds Comparison does all the hard work for you? With just a few clicks of a button, you can go from researching odds to placing bets in no time at all!