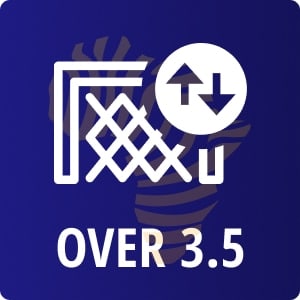 Over 3.5 Goals betting is a type of betting that focuses on the total goals scored in a match. It involves betting on the number of goals in a match being more than 3 at the end of full-time. Goals scored by both teams are counted towards the total goals for the match. This means the match must have a total of at least 4 goals for the bet to win.
In football, over 3.5 betting is very lucrative as it comes with high odds compared to other betting lines. This is because having more than 3 goals scored in a match is not a frequent thing. The risks of an Over 3.5 bet are high but the potential rewards are worth it.
Over 3.5 tips today & tomorrow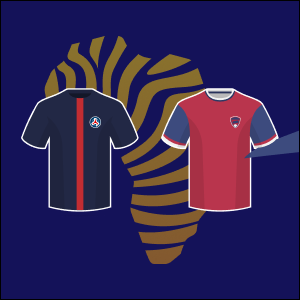 Messi did it again, breaking Cristian Ronaldo's record in Europe's top 5 leagues, as he scored a goal that pushed PSG to the finish line of the Ligue 1 title race, on their travel to Strasbourg to make it a 1-1 tie. The Champions of France will be taking the celebration of their 11th Ligue ... More
If you don't find the latest Over 3.5 predictions, please go to our page for the best betting tips for today.

Over 3.5 Goals betting explained
Over 3.5 goals is one of the betting markets commonly offered for football matches. You simply bet on the total number of goals in a match being more than 3. With over 3.5 bets, you do not have to worry about the outcome of the match in terms of wins or draws. This should be much easier than picking the winner in a 1X2 bet.
Betting on the number of goals offers multiple betting lines in football matches. It is common for bookmakers to offer bet markets for the number of goals in the form of Over/Under 0.5, 1.5, 2.5, 4.5, and 5.5 goals. In general, betting on a high number of goals in a match attracts higher odds but comes with increased risk.
The bet for over 3.5 goals will have higher odds compared to under 3.5 goals. This is because bookmakers recognize that it is harder for a match to score more than 3 goals compared to having less than 3 goals. Therefore, the over 3.5 goals bet is for high-scoring matches.
For example: Tottenham vs. Southampton
1X2 odds: Tottenham 1.84 Draw 3.90 Southampton 4.20
Over/Under 1.5 odds: Over 1.25 Under 4.50
Over/Under 2.5 odds: Over 1.72 Under 2.20
Over/Under 3.5 odds: Over 2.90 Under 1.50
Over/Under 4.5 odds: Over 5.00 Under 1.16
From the above odds, you can see how rewarding Over 3.5 bet is. To begin with, you do not have to agonize over the 1X2 bets no matter how attractive. Picking the winner or draw in this case only adds to the risk. From the odds, the bookmakers recognize that the game is likely to have more than 1 or more than 2 goals hence the relatively low odds for over 1.5 and over 2.5. You can pick these if you want to play safe.
Odds of 2.90 are very lucrative for a single bet. This match has the potential to give you the win with an Over 3.5 goals bet. There are several match score combinations that can give you a win for the bet.
Home win: 4-0, 4-1, 3-1, 3-2, 4-2, 4-3, 5-0, 5-1, 5-2, 5-3, 5-4 and higher
Draw: 2-2, 3-3, 4-4, 5-5 etc
Away win: 0-4, 1-3, 2-3, 1-4, 2-4, 3-4, 0-5, 1-5, 2-5, 3-5, 4-5 and higher
There are several reasons why you should pick over 3.5 goals bet in this match:
Tottenham's last 3 matches all had over 3.5 goals: 2-2, 1-3 loss, and 2-2
For Southampton, only 1 out of the last 3 matches had over 3.5 goals: 3-2 win
Both Tottenham and Southampton average 1.40 goals per match in the last 5 matches
Tottenham have conceded 10 goals in the last 5 matches. Average of 2.00 goals per match
Southampton have conceded 8 goals in the last 5 matches. Average 0f 1.60 goals per match
The last two matches between these teams had over 3.5 goals. 2-5 and 3-2 both wins for Tottenham
Our deduction here is that these are two teams that score goals and concede in equal measure. Their matches are likely to be high scoring regardless of the winner or draw match result. A bet of over 3.5 goals is therefore recommended in this case.
Find bookmakers that offer high odds and big customer rewards on our best betting sites page.
Over 3.5 betting tips
If you want to bet on over 3.5 goal tips, there are certain things to consider to increase your chances of winning. We explain a few pointers below:
Team strengths
When a very strong team is playing a very weak team, the stronger team is likely to register a big score. The mismatch between the teams is enough to produce more than 3 goals in total through scorelines like 3-1, 4-0, 4-1, 5-2 etc. Team strengths can be indicated by the relative positions of the two teams in the league (after many matches) and even recent form.
Leagues, groups, and tournaments sometimes have teams referred to as "whipping boys". These are weak teams that get beaten by everyone and their loss margins are usually big. You can thus bet on over 3.5 goals when the whipping boys are playing a strong team like the league or group leader.
Attacking teams
Attacking teams are usually able to score goals in nearly every match they play. Regardless of the match result, the total goals is likely to be more than 3. If an attacking team plays against a weak team, they are likely to register a big win. When the attacking team plays another attacking team, we are likely to have a goal-fest in that match. Similarly, for an attacking team to lose, the opponents have to outscore them so we will have a high-scoring match in the end.