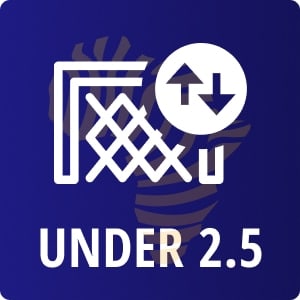 Under 2.5 tips are the popular football betting market that simply means you bet on a football match producing total goals of less than 2.5 goals. In this case, if the match you bet on provided no goals, one goal, or two goals, you will win this under 2.5 goals bet, for example, 0-0, 1-0, 0-1, 2-0, 0-2 or 1-1.
Its popularity is brought by the fact that one doesn't have to worry about who will win the game but about the number of goals scored in the match.
Under 2.5 tips today & tomorrow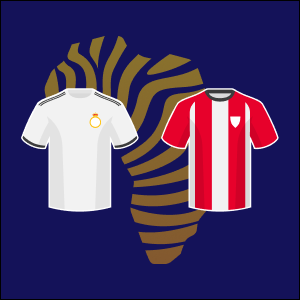 Real Madrid continued their fight to hold onto 2nd place in La Liga with an impressive 2-1 comeback win away at Sevilla at the weekend. Rodrygo's brace condemned the Andlaucians to defeat as Madrid claimed all three points on offer to keep third-placed Atletico at arm's length coming into this last round of matches. With ... More
TIP: If you do not find up-to-date Under 2.5 tips, have a look at our page for the best football tips for today.

Under 2.5 Goals explained
Under 2.5 goals bets require that the cumulative number of goals scored at the end of the match be fewer than three. This is a winning bet with scorelines like 0-0, 1-0, 1-1, and 2-0.
In football, betting on the under 2.5 goals targets full-time outcomes or any of the halves, the first half or second half.
The chances for a bet on under 2.5 goals will vary greatly depending on the teams involved. For example, if two defensive-minded teams, in our example, West Ham United and Leicester, play each other, you may only get odd of 1.56. However, if two attack-minded teams meet, you can be able to get odds of about 2.00. Therefore, the more defensive-minded teams will be characterized with lower odds and more attacking play teams will have higher odds.
Under 2.5 Goals betting tips
Upon you understanding what is Under 2.5 goals, betting on it will get you decent returns on a consistent basis. There are a few things to look at which are all crucial factors to remember when choosing your choices. This includes head to head form, team form, teams playing tactics in terms of defensive and attacking play, average goals scored in previous matches, and team abilities
Head-to-head games
As we take a look in the past head-to-heads between the two teams, we gather information on whether the match is a low-scoring or high-scoring game. In a more defensive play, we expect fewer goals and this is a good match to bet on under 2.5, however, if it is a more attacking play, we usually forecast more goals from both sides and might be a red flag to betting on under 2.5 goals.
On the flip side of it, the one that looks like more attacking formations, the odd for this market is usually high and appealing. We, therefore, need to check more on the current league position or Cup qualifications. In this case, some teams cannot bear the thought of losing to their opponents and would rather defend than strike. In certain cases, such games are settled by fewer goals, for example, a goal or two or a barren draw. We take a look at an example at the Arsenal vs Everton game, with which in the current standings are position 9th and 8th respectively. Everton will definitely be trying to defend their position rather than go all-out attack.
H2H stats will also predict if a game will finish with less than 2.5 goals. There are rivals which in their past league matches, it has always been characterized by fewer goals. This might be due to the nature of the match maybe it is a derby or their playing styles. If the stats support so, it is a fantastic match to bet on under 2.5 goals e,g in the last 5 H2H stats on RB Leipzig vs. Stuttgart, 4 of them had 2 or fewer goals scored.
Team form
We take a look at the individual teams' performance in their previous matches and it is important to include all teams in their respective scenarios. It's possible that one side is scoring a lot of goals and the other is conceding very few goals, which means they'll balance each other out. This is a perfect guiding factor on whether to bet on the under 2.5 goal market. If both teams have been conceding very little, then under 2.5 goals is our pick. On the other side, if both teams have been scoring a lot as well as letting in more goals, this market ain't the best choice for such matches.
Team squad selection
The team selection is a major factor in the selection of the under 2.5 goals market. It is common for a squad that is without a main striker to fail to score the same number of goals in his absence. Likewise, when a central defender is absent, teams are more likely to concede goals. The players might also be missing as a result of the coach resting them for an upcoming match and their replacements are not that good enough. This might definitely affect the individual teams' performance.
This means if main strikers are missing we do expect fewer goals scored and if the main defenders are on, we expect them to concede fewer goals. Therefore, before making your under 2.5 bets, you should consider the possible or actual lineup.
Read our best betting sites page and know which bookmakers offer high odds for under 2.5 goal bets and other offers.