Welcome to the world of online betting and gaming with Paripesa! Are you ready for an exhilarating journey filled with exciting sports, thrilling casino games, and generous bonuses? Look no further because Paripesa has got it all covered. In this block post, we will take you through the seamless process of creating a Paripesa account, share our experience with the registration and verification process, and give you a sneak peek into incredible features that awaits you as a member. So buckle up and get ready to dive into the world of Paripesa – where endless entertainment meets lucrative opportunities!

Paripesa registration overview
Step by step on how to create Paripesa account
Creating a Paripesa account is quick and hassle-free, allowing you to start your betting journey in no time. To register, you have multiple options available. You can sign up using the email address or phone number. Regardless of which option you choose, they both follow a similar pattern.
Registration by phone number
We decided to go with the traditional phone registration route, and below are the few steps it took us to create a new Paripesa account:
Simply visit the Paripesa homepage through the website or Paripesa app
Click on the brown "Registration" button at the top right corner
On the popped-up form, you're required to fill your details in 3 sections
Section 1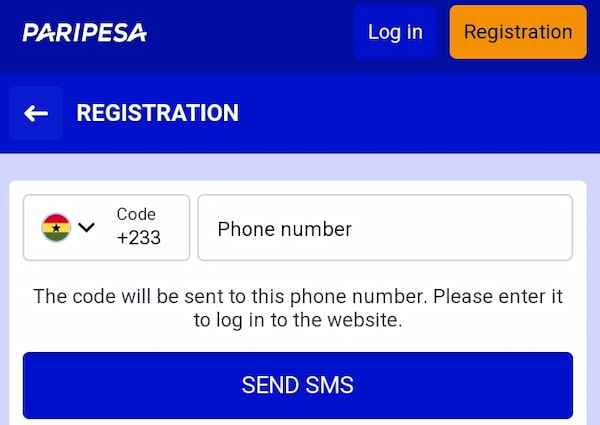 Enter your mobile number and click on "Send SMS"
Enter the confirmation code received on your phone number
Your mobile number is automatically confirmed as soon as you enter the code
Section 2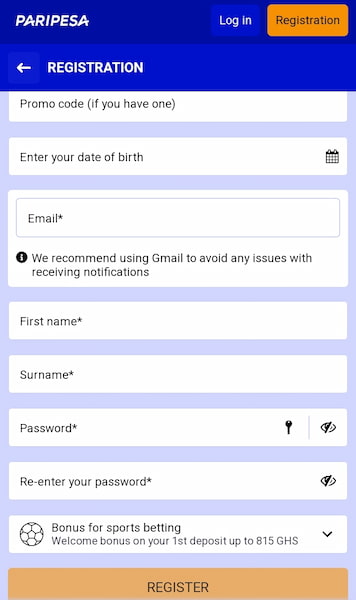 Fill in your personal details including name, email address, date of birth
Enter your first name, surname, and password
Enter your Promotional Code if available (optional)
Choose the type of bonus you want to receive (Sports bonus or casino bonus or none)
Click on the brown "Register" button at bottom of the registration page
And guess what? You're almost done!
Section 3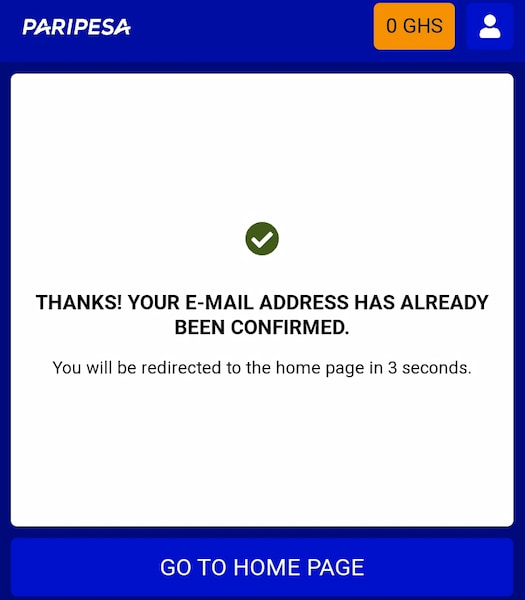 An email will be received from Paripesa for you to complete your registration
Click on the brown "Complete Registration" button in the emailed message to verify your email
Congratulations! Your Paripesa account is ready for all your betting activities
Now that you know how easy it is to create a Paripesa account, let's move on to discussing one of most enticing features – their welcome bonus! Stay tuned for exciting details ahead!
Paripesa welcome bonus
When it comes to online betting, one of the things that can make a platform stand out is its welcome bonus. And in this aspect, Paripesa definitely delivers! As a new user on Paripesa, you will be greeted with an exciting welcome bonus that adds extra value to your initial deposit.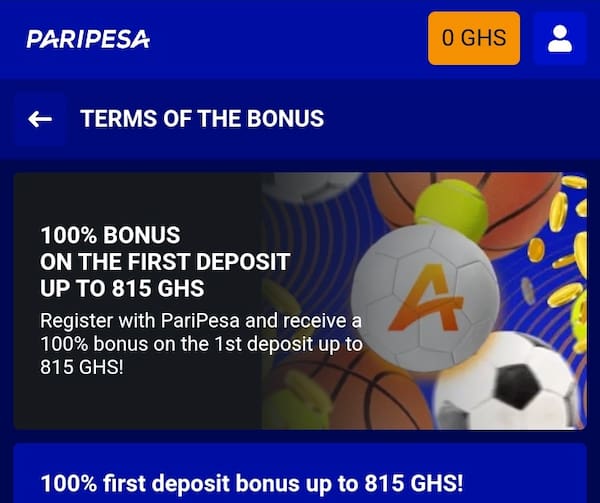 The Paripesa welcome bonus offers a generous match on your first deposit, giving you more funds to kickstart your betting journey. This additional money can be used across various sports and casino games available on the platform. Are you from Ghana, Nigeria, Kenya, Uganda or Zambia? Below is just a gist of what to expect as a new player:
🇳🇬 100% up to NGN 100,000
🇬🇭 100% up to GHS 815
🇰🇪 100% up to KES 11,800
🇺🇬 100% up to UGX 414,106
🇿🇲 100% up to ZMW 2,200
To claim the welcome bonus, Just like any other top-notch free bet bonus on registration, you have to satisfy the Paripesa bonus wagering requirements, which is rather very simple compared to other welcome bonuses:
The bonus sum must be wagered 5X in accumulator bets with 3 or more events
An accumulator must contain 3 or more events with 1.40 odds or higher
Our Paripesa user experience
The overall user experience provided by Paripesa truly surpasses expectations with its seamless navigation, diverse sports offerings, secure betting environment, and convenient payment options – making it an ideal choice for both seasoned bettors looking for new platform or beginners dipping their toes into online sports betting waters!
Join us as we walk you through our first hand experience from the registration process, account verification and deposit, exploring sports and casino games, placing bets, live betting and streaming to withdrawal and customer support.
The registration process
Creating a Paripesa account is a straightforward process that takes just a few minutes to complete. We did not only have multiple options available, but we also had multiple channels to register from. You can sign up through the Paripesa website or via the app. We decided to go with the Paripesa app which was pretty simple and fast and also allowed for easy registration while on the go. Once we completed the initial registration form, we were prompted to verify our email, and guess what? The account was ready to start our betting activities!
Account Verification and Deposit
When it comes to account verification and deposit process at Paripesa, our experience was smooth and hassle-free. After creating our account, we were prompted to verify our account via email text. We appreciated the fact that Paripesa has a streamlined verification system, which ensured that our information remained secure.
Once our account was verified, we were ready to make a deposit. Paripesa offers a wide range of payment methods including popular options like credit/debit cards, e-wallets, bank transfers, and cryptocurrency. We opted for an e-wallet method as it offered quick processing times. The seamless verification procedure coupled with various convenient payment options made getting started at this platform stress-free!
Exploring sports and casino games
In the sports section, we were impressed by the variety of sporting events available for betting. From football to basketball, tennis to cricket, there was something for everyone. The interface was user-friendly and navigating through different matches and odds was a breeze.
Moving on to the casino games, Paripesa did not disappoint. As explicitly detailed in our Paripesa Casino review, the selection of slots games, and live dealer options provided endless entertainment. We particularly enjoyed trying out different themed slots with immersive graphics and bonus features. And for those looking for a more interactive experience, the live dealer games offered an authentic atmosphere that made us feel like we were in a real casino.
One aspect that stood out during our exploration was the seamless integration between sports betting and casino gaming on Paripesa. It allowed us to easily switch between placing bets on upcoming matches and enjoying some spins on our favorite slot machines without any hassle.
Placing Bets
Placing bets at Paripesa is a breeze! The user interface is intuitive and easy to navigate, making it simple for even the most novice bettors to place their wagers. With a wide range of of sports and betting markets available, there's something for everyone.
Once you've selected your desired sports, you can choose from various betting options such as 1×2, over/under, handicaps, and more. One feature that sets Paripesa apart is the ability to customize your betslip. You can add multiple selections from different matches or sports onto a single ticket, allowing for greater flexibility in your strategy. And with our expert daily football betting tips, you're sure to always have a winning slip everyday!
Live Betting and Streaming
In addition to traditional pre-match bets, Paripesa also offers live betting options. This allowed us to place bets on games or matches that were already in progress. The live betting interface is dynamic and provides up-to-the-minute statistics and odds changes so that you can adjust your bets accordingly.
Additionally, Paripesa offers a live streaming service that enables you to watch your favorite sports matches directly from their website or mobile app. This feature is particularly handy if you want to follow the action closely while placing your bets simultaneously.
Withdrawal and Customer Support
When it comes to withdrawing our winnings from the Paripesa platform, we were pleasantly surprises by how easy and efficient the process was. The withdrawal options offered by Paripesa are diverse, including popular methods such as bank transfers, e-wallets, and even cryptocurrencies.
In terms and customer support, Paripesa truly impressed us with their responsiveness and professionalism. They offer various channels or contacting their support team, including live chat and email. Whenever we had question during our betting journey, their support team was readily available to assist us.
Conclusion
All in all, Paripesa offers a seamless and user-friendly experience for those who want to place bets on their favorite sports. The registration process is quick and straightforward, while the platform's account verification process adds an extra layer of security, protecting both your personal information and funds. With multiple payment options available, it's easy to deposit and withdraw money at your convenience.
Whether you're a seasoned bettor or new to the world of online sports betting, Paripesa provides a comprehensive platform with an extensive range of sporting events to choose from. The intuitive interface makes it simple to navigate through different markets, odds and live matches.
So why wait? Take advantage of the exciting opportunities offered by Paripesa today! Register now and embark on your thrilling sports betting journey with one of the most trusted platforms in the industry.