The 10bet sportsbook establishment in 2003 was done parallel with the launching of the 10bet mobile app which serves a similar gambling services and other entertainment to their clients just like their website does. Being an international boomaker, 10bet mobile app APK is available for download in several African countries including Democratic Republic of Congo and South Africa.
With at least 65,000 monthly betting markets, the 10bet mobile app is a very good betting app which has come to offer flexibility with searching the sports events and their respective betting market and ease deposit and withdrawal. This is a new betting experience for punters as 10Bet is now in your pocket with all the features of the website included.
Take a look at our overview and find the best betting apps for your use!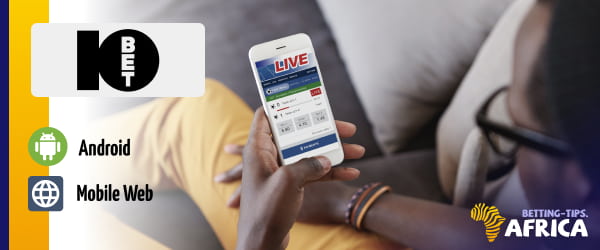 1) How to Download the 10bet Mobile App?
In order to download the 10bet app follow the following steps with the exception of adjusting your mobile phone settings to allow installation of files from external sources.
For Android
As a result of restrictive terms and conditions of the Google play store, 10bet experts have chosen to publish the 10bet Mobile App as an APK file directly on their website. Here are the steps to download the 10Bet mobile app on your android phone:
Visit the 10bet website of your specific country
Scroll down to the website's footer to locate the download for android button
Once an APK file is downloaded, click it to install.
Automatically you will be prompted to allow installation of applications from unknown sources
Following changes made to accept unknown sources, 10bet Mobile App will be installed on your Android phone.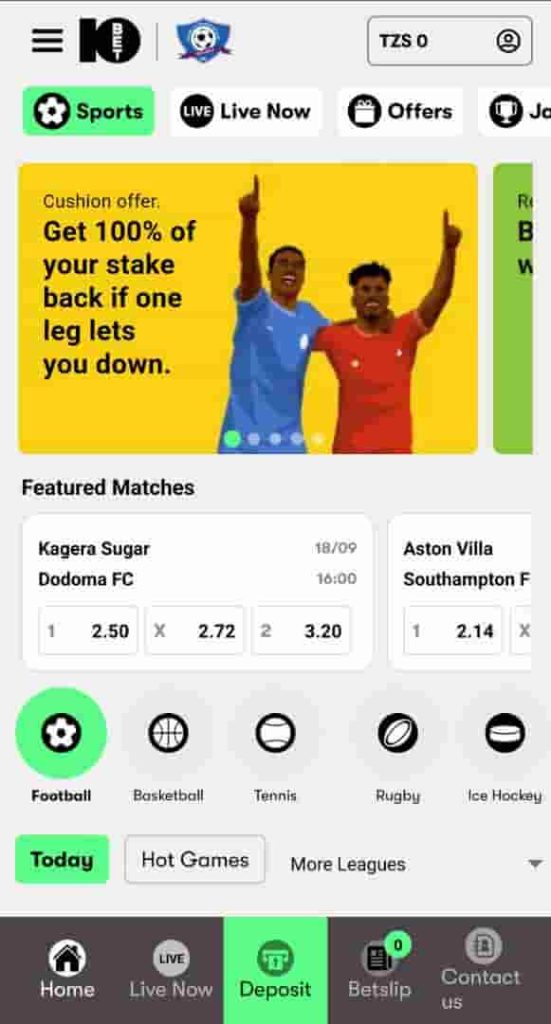 For iOS
Currently there is no 10bet mobile app for iOS. Until a milestone to reach a successful launch of iOS 10bet mobile app, their existing website continue to serve so many clients who use the iOS Mobile phone as it is mobile responsive.
This implies, their website can be opened in any iOS mobile phone browser with all feel and look similar to their existing Android Mobile app.
Just open the 10bet website of your specific country
And start to enjoy the 10bet services, offers and promotions
10bet app for Windows phone or mobile website
The 10bet mobile lite website is able to be responsive to specific mobile phone browsers without leaving aside any services, market, and features.
It has a similar appearance to the mobile app;
It has been optimized to open faster
All features available in 10bet platforms are included
It can be opened by any mobile phone device
It is the best alternative if clients failed to download the mobile app due to poor internet.
Not sure which are the best betting sites in Africa? No need to worry, we've made a list of every bookmaker currently operating in Africa!

2) In which countries is the 10bet app available?
The 10bet mobile app is available for download in several African countries including South Africa. Just navigate to their specific country website to download the 10bet mobile app installation file.
It is important to download from your country's website so that you do not miss the ongoing offers and promotions happening in the country you reside in.
Approved countries for app download: 🇿🇦
3) Which systems are required?
For Android
In order to successfully install the 10bet mobile make sure you have the latest version of Android in your mobile phone. This can be achieved by updating your mobile phone software.
For iOS
For iOS user you needed to be having the current mobile phone browser to run the mobile lite version 10bet website.
4) What are the Pros & Cons of the app?
Most important Pro & Contra
No charges for downloading it
Flexible and open fast
24/7 customer support
Highest security
Uses less data
There's no iOS app.
Fewer options for payment
5) Bonuses available for app users?
The 10bet mobile app users are having similar offers that are available on their website. They have managed to have a diversity of offers but in order to get the latest listing of their offers it is important for every 10bet mobile app user to remember to update their installed 10bet mobile app. Here are some of the available offers in the 10bet mobile app:
Welcome offer: 10bet offer 150% for every new sign up in their mobile app.
Cashback offer: Get your money back by 100% as a free bet if one betting selection is lost.
Winning offer: For every selection you add in your multi-bet slip gives you a chance to settle up to 1000% winning bonus
Please review the 10bet terms and conditions for passing their requirements for giving out 10bet offers. 10bet has the right to invalidate any offers if clients fail to match their criteria.
Visit our dedicated page for the 10bet bonus details.
6) Other features and options in the 10bet App?
There are more features and services that can be enjoyed when you choose to use the 10bet mobile app. Here are some of them:
Quick searching tool
All sports events can be easily navigated by scrolling on the main page
Live betting with respective events statistics
Clients can Cashout their betting tickets
7) How to Place a Bet?
In order to wager on the betting market, make sure you are a registered 10bet client so that you can have access to a 10bet account.
Login into your 10bet account through the mobile app.
Navigate the three lined button on top left corner to specify the sport and which category you wish to wager on.
You can either choose any of the sports listed from this menu or you can effectively use the search box which shows up after tapping the three lined menu button.
Once you have found your desired match, select the market you wish to wager
Your betslip menu will display your events predictions and can be located by tapping the 4th button at bottom of the 10bet mobile app written Betslip.
Input the amount you want to use as a stake for the selected event(s).
You must Accept Odds Changes before you wager on your selections.
Finally tap Place Bet
You can add up to 50 selections in total to create a single bet slip.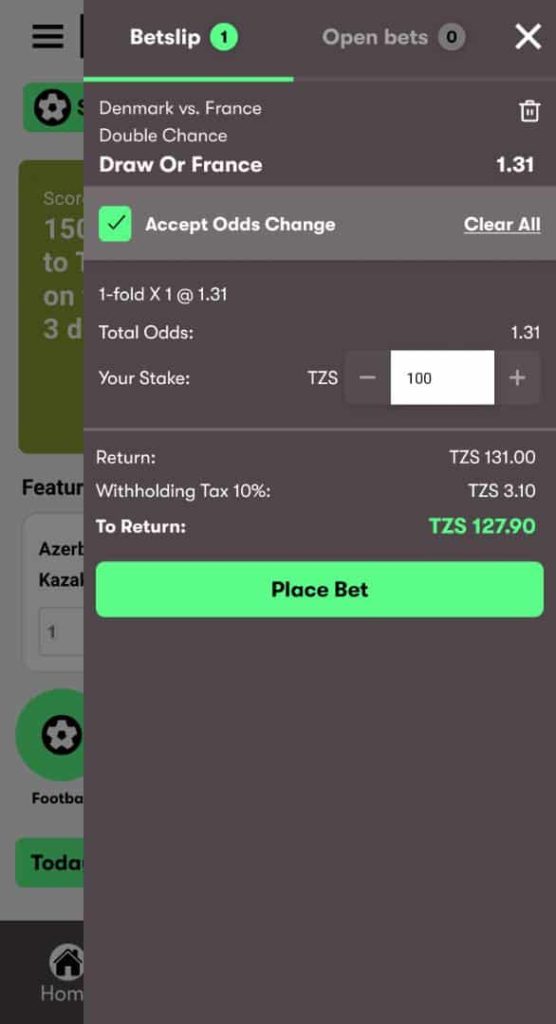 8) How to make payments?
How to Deposit
10bet account can be funded through the existing mobile money payment methods founded in your country of residence. The 10bet mobile app has offers standard means of funding your account through the following steps
Navigate the radio button found in deposit interface of 10bet mobile app.
Choose your desired mobile money payment.
Enter the minimum deposit amount
Your password for your mobile money will be requested upon clicking withdraw.
Your account will be credited quickly if you input the password properly.
Alternatively, you can switch to Paybill and use the USSD code for your specific mobile money firm to complete the deposit process.
Tanzania
In Tanzania you can use 10bet Paybill number 335599 to a complete the payment
Tigopesa/Zantel
Dial *150*01#
Choose 4, Pay Bills
Choose 3, Input Business Number
Input 10bet Business Number – 335599
Input your mobile number as a reference number
Input minimum deposit amount (100 TZS)
Input Pin and confirm your transaction
Vodacom M-PESA
Dial *150*00#
Choose 4, Pay by MPESA
Choose 4, Input Business Number
Input 10bet Business Number – 335599
Input your mobile number as a reference number
Input minimum deposit amount (100 TZS)
Input your MPESA password and choose 1 to confirm your transaction
Kenya – not available at the moment
MPESA/Airtel Money
Navigate to Lipa na Mpesa or Airtel Money and opt Pay Bill
Input business no: 4090089
You will be prompted for account number: Input mobile number registered with your 10bet account
Enter amount
Confirm transaction with your mobile money PIN and deposit will be successful
Ghana – not available at the moment
Dial *711*110# the USSD code for Hubtel
Go to deposit by selecting number 1
Enter amount and confirmation message will be sent to you by the operator
The transaction will be approved upon entering the mobile money account PIN
Zambia – not available at the moment
Airtel Money/MTN
Dial *310*10#
Go to 10bet ZM by selecting number 2
Choose number 2 from 10bet menu
Enter the amount and follow by inputting a PIN number
Confirm the transaction by choosing 1 for YES and your account will be funded.
Below is the minimum deposit amount per country:
Tanzania: The minimum deposit is 100 TZS with unlimited maximum deposit
Kenya: The minimum deposit is 50 KES with unlimited maximum deposit
Ghana: The minimum deposit is 2 GHS with unlimited maximum deposit
Zambia: The minimum deposit is 10 ZMW with unlimited maximum deposit
How to Make a Withdrawal
In order to claim your won amount, please go to the top left corner and find the three lined menu button to navigate to My Account tab and select withdraw. This one is really simple; all you have to do is enter the desired amount, and click "Withdraw," and money will instantly be credited to your mobile money account.
Here are the acceptable ranges that have been set for collecting your money from the 10bet account:
Tanzania: Minimum withdraw is 50 TZS and Maximum is 5,000,000 TZS
Kenya: Minimum withdraw is 50 KES and Maximum is 300,000 KES
Ghana: Minimum withdraw is 1 GHS and Maximum is 5,000 GHS
Zambia: Minimum withdraw is 1 ZMW and Maximum is 12,000 ZMW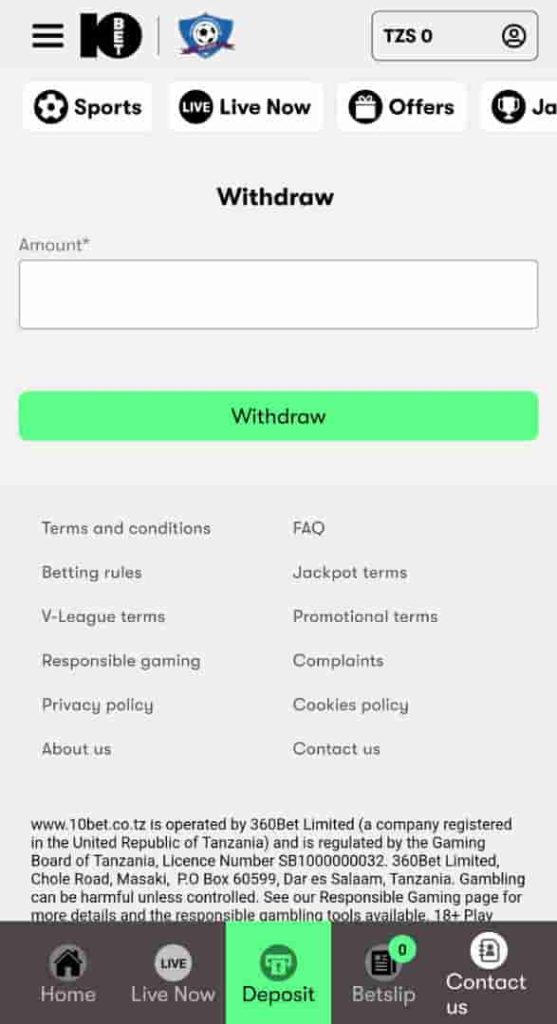 9) How to Contact Customer Service using 10bet App?
Please make efficient use of 10bet's 24/7 support service if you wish to address your inquiry to them. Tap the contact us button on the right corner at the bottom to view available options for reaching out to the support team. From there you can initiate the live chat with the 10bet customer services representative.
Alternatively, you can provide your First Name, Last Name, Phone Number, Email, Subject, and Message/Question to request a CALL BACK service or you can just SUBMIT these details for the email conversation.
10Bet is also available on well-known social media platforms like Facebook, Twitter, Instagram, WhatsApp, and so on.
10) Conclusion
10bet clients can enjoy opting any of the 0bet betting platforms that have been launched by the 10bet and this includes the 10bet mobile app which is available to download for free from their website. Do not worry about getting their latest offers and promotions in your 10bet mobile app because they are being offered unbiased through a periodic update of their mobile app.
This means you are reminded not to miss an update if you wish to keep posted with 10bet new service, offers, promotion and innovative features. This has come to add value to the betting universe.
The 10bet app reaches 93/100 points in our bookmaker app test