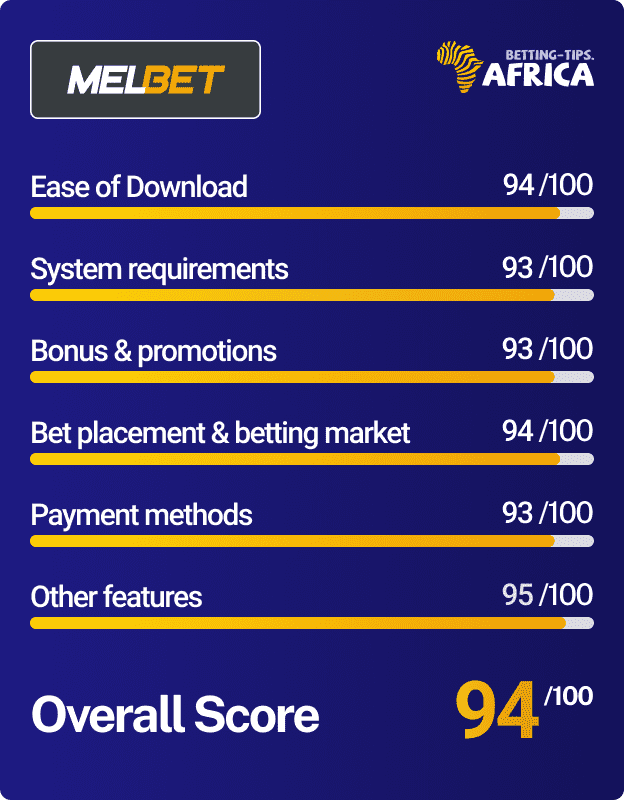 The Melbet app is another excellent offering from this international bookmaker that is fast spreading across Africa. With a dedicated mobile app for both Android and iOS devices, Melbet is able to provide an enhanced betting experience to its customers.
With the Melbet mobile app, you will be able to access all the features and services from the bookmaker from the convenience of your mobile phone.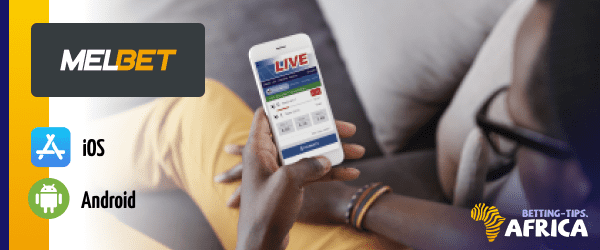 1) How to Download the Melbet Mobile App?

The Melbet mobile app is available for both Android and iOS devices. There are download links for both platforms available on Melbet's website. You do not need to search for the app on Google Store or App store. Here is how to download the app:
For Android
The Melbet Android app is not available on Google Store, but you can download it directly from the Melbet website by following these steps:
Open the Melbet website on your Android smartphone
Scroll to the bottom of the homepage and click on the hyperlink 'Mobile Applications'
The link will open a page where you can download the Melbet app files
Click on the link for the Android app download and select your preferred version
Click 'Download' and change your phone setting to allow download from unknown sources
Click on the Melbet apk file and follow the steps to complete the installation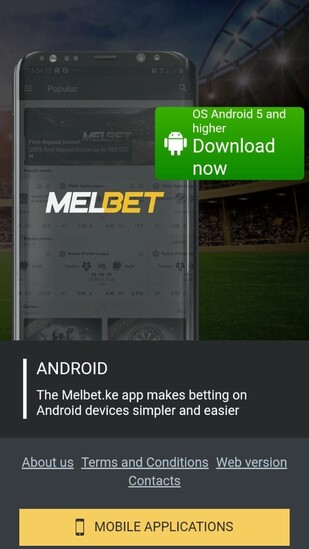 For iOS
You can download the iOS version of the Melbet app by following these steps:
Open the Melbet website on your iOS device
Scroll to the bottom of the homepage and click on the hyperlink 'Mobile Applications'
Click on the link for iOS download and it will start downloading automatically
After installation, go to your phone settings and select 'General' and then 'Device Management'
In the 'Enterprise app' window, select "Kontrast" OOO and click on 'verify'
The app is now ready for use
2) In Which Countries is the Melbet App available?
The Melbet app is available for download in Nigeria, Ghana, Kenya, Zambia and Uganda
Approved countries for app download: 🇰🇪 🇳🇬 🇬🇭 🇿🇲 🇺🇬
TIP: Check out more details in our betting site review for Melbet Nigeria, Melbet Kenya, Melbet Ghana and Melbet Zambia
3) Which systems are required?
For Android
Android version 5 and higher
For iOS
iOS version 8 and higher
4) What are the Pros and Cons of the App?
Most important Pro & Contra
Available for both Android and iOS
Easy to download and install
User-friendly interface and navigation
Live betting
Live streaming
Restricted in some countries
The app file is relatively large - 22 MB
5) Bonuses available for App users?
Melbet app users can enjoy the Melbet Welcome Bonus of 200/300/330% on their first deposit up to ₦100,000 (Nigeria), KES 20,000 (Kenya), up to 1,380 GHS (Ghana), up to 6,812 ZMW (Zambia) and up to 880,000 UGX (Uganda).
EXCLUSIVE BONUS: If you sign up using the Betting Tips Africa (BTA) link, you get an exclusive 30% extra bonus. This means a maximum bonus of ₦ 130,000, KES 26,000, 3,250 GHS, 6,812 ZMW or 1,144,000 UGX.
All you have to do is to follow the registration link from the BTA website and enter the PROMO CODE: ml_110050  when you register a new account on Melbet.
30% extra Bonus now
200% up to 20,000 KES 🇰🇪 - now: 26,000 KES
200% up to ₦ 100,000 🇳🇬 - now: ₦ 130,000
200% up to 2,500 GHS 🇬🇭 now: 3,250 GHS
200% up to 5,240 ZMW 🇿🇲 - now: 6,812 ZMW
200% up to 880k UGX 🇺🇬 - now: 1,144,000UGX

First Deposit Bonus
Exclusive 30% more @BTA!
Reach out for more offers on our betting bonus sites.
6) Other features and options in the Melbet App?
Customers using the Melbet app can enjoy the following features and options:
Live in-play betting – with multi-LIVE, graphics, and live stats
Live streaming – for select games for free
Cashout option – for most games
Virtuals – covering different sports
7) How to place a bet at Melbet app?
Placing a bet using the Melbet app is very simple:
Open the Melbet sportsbook
Log on to your betting account or register a new account
Click on the event you want to bet on
Select your betting option. This is automatically added to the bet slip
Enter the amount to stake. You will see your possible winnings
Click to submit the bet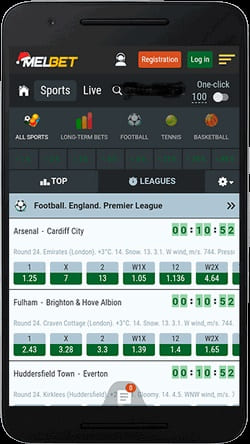 8) How to Make Payments?
Melbet offers a wide range of payment options in the countries where it operates. These include debit cards, e-wallets, mobile payments, bank transfers, and cryptocurrency.
How to deposit
Here, we look at how to deposit on Melbet Nigeria using Visa debit card
Visa debit card
Open your Melbet account
Click on the '$ icon' at the top to open 'Deposits and Withdrawal'
Under 'Deposit' select 'Visa' and click 'Deposit'
Enter the card details required, including the 3-digit CVS number
Enter the amount to deposit
Click 'Deposit' to complete the transaction
The deposit is reflected instantly in your Melbet account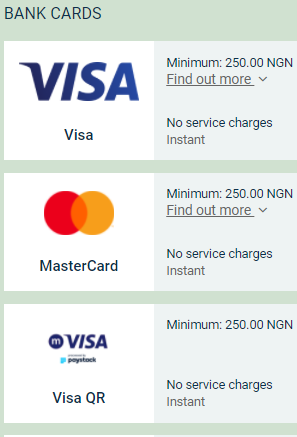 How to Withdraw
You can withdraw from Melbet using the multiple methods listed. The withdrawal process is also simple and straightforward:
Open your Melbet account
Click on the '$ icon' at the top to open 'Deposits and Withdrawal'
Under 'Withdrawal' select your preferred method
Enter the account details required
Enter the amount to withdraw
Click 'withdraw' to complete the transaction
You will receive the money within the duration indicated
9) How to contact Customer Service through the Melbet App?
Melbet has a 24/7 customer care service that can be accessed through various channels including:
Email
Live chat
Phone
Contact Form
Responses are prompt and the customer care staff and very friendly and helpful.
Conclusion
The Melbet app will help you enjoy betting in a more convenient way. It operates smoothly and is easy to navigate. With the app, you can place bets and complete all other processes while on the move. Furthermore, the Melbet app comes with some integrated features, such as live streaming, that may not be available on other betting apps.
Overall, the Melbet Mobile App scores 94/100 on our mobile app test.