Bet365 is one of the leading online betting platforms that offers a thrilling and comprehensive gambling experience. With its user-friendly interface and extensive range of sports betting options, bet365 is the go-to destination for both seasoned bettors and newcomers.
Registering with bet365 is a straightforward process, ensuring quick and hassle-free access to a world of exciting wagering opportunities. Simply visit the bet365 website and complete the registration form by providing your personal details and creating a unique username and password. As a registered member, you'll gain access to a plethora of sports events, live streaming, in-play betting, and a wide variety of casino games, making bet365 an ideal choice for all your betting needs.
In this article we provide all details about the bet365 sign up process.
Bet365 sign up process overview
How does the bet365 sign up work?
The bet365 sign up / registration is an easy and straightforward process that does not take longer than 3-5 minutes. Make sure to read the steps carefully and follow the instructions for your new bet365 betting account.
Visit the official bet365 website
Click on the "Join" button on the top right hand side of the website or top part
Registration can also be done via the mobile app – find out more about the Bet365 mobile app
Select your country of residence and
Fill in the registration form with your personal information, including name, date of birth
Provide your email address and your telephone number
Choose a unique username and password for your account
Enter any applicable bonus code or promotional offer, if available
Read and agree to the terms and conditions, as well as the privacy policy
Click the green button "Join bet365"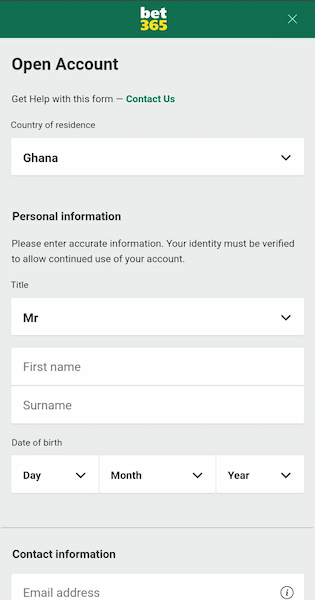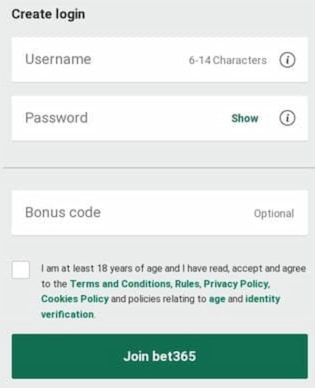 After you will receive a verification code to your email or telephone and with that you can log in to your newly created betting account.
Further steps after sign up / registration
Complete any additional verification steps required, such as age verification or providing identification documents
Set your currency, deposit limits and any responsible gambling tools you wish to apply to your account
Make a deposit using one of the available payment methods
Take advantage of the Bet365 bet credits as a welcome offer (detailed info down)
Now you can start placing your first bet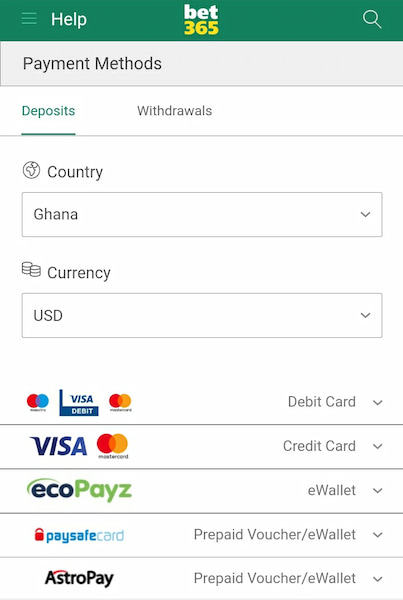 Bet365 Bet Credits offer
Before you sign up we advise you to make yourself familiar with the bet365 open account offer. Here is a summary of the registration offer available in African countries.
Bet365 bonus details per country:
100% up to $ 30 in 🇳🇬 🇹🇿 🇿🇲 + many other African countries
100% up to UGX 450,000 in 🇺🇬
50% up to GHS 300 in 🇬🇭
15% up to $ 60 in 🇰🇪
Wagering requirements: turn over your deposit amount 12 times (8 times in Ghana) at a min odd of 1.20 per event. Follow the link for more details about the bet365 sign up bonus.
Our user experience with bet365
I would like to share my personal experience with opening a betting account at Bet365 with you. I recently decided to take my first steps into the world of sports betting, and after some research and recommendations, I chose Bet365.
The initial impression of the Bet365 website was extremely positive. It is modern and easy to navigate. The registration process was straightforward through the registration form, where I had to provide my personal information. It is worth mentioning that Bet365 has strict security measures to ensure the protection of all personal information. This gave me a good feeling right from the start. The entire registration process took no longer than a few minutes and was self-explanatory.
After registration, I was able to choose from various deposit options. Bet365 offers a wide range of payment methods, including credit cards, e-wallets, and bank transfers. I chose to use my credit card as it was the most convenient option for me. The deposit went smoothly, and the money was immediately available in my betting account.
After topping up my betting account, I explored the various betting options at Bet365. The selection of sports and betting markets is impressive. Whether it's football, tennis, basketball, or motorsport, there are plenty of options to choose from. I particularly liked the opportunity to place live bets during a game. The odds were fair and competitive compared to other providers.
Another highlight of Bet365 is its extensive live streaming offering. I was able to watch many of my favorite sports events live while placing my bets. The stream quality was excellent, and I was impressed by the variety of games and events being broadcasted.
As for customer service, I have had only positive experiences so far. I had a question about a betting rule and contacted customer support via live chat. The representatives were extremely helpful, friendly, and quickly resolved my query. It was reassuring to know that support was available at any time.
Overall, I am extremely satisfied with my decision to open a betting account at Bet365. The website is user-friendly, the selection of betting options is extensive, and the live streaming offering is excellent. The security measures and customer service have further strengthened my trust in the provider.
Of course, gambling comes with risks, and it is important to bet responsibly. However, Bet365 provides various tools and features to maintain control over one's gambling behavior and promote responsible gambling.