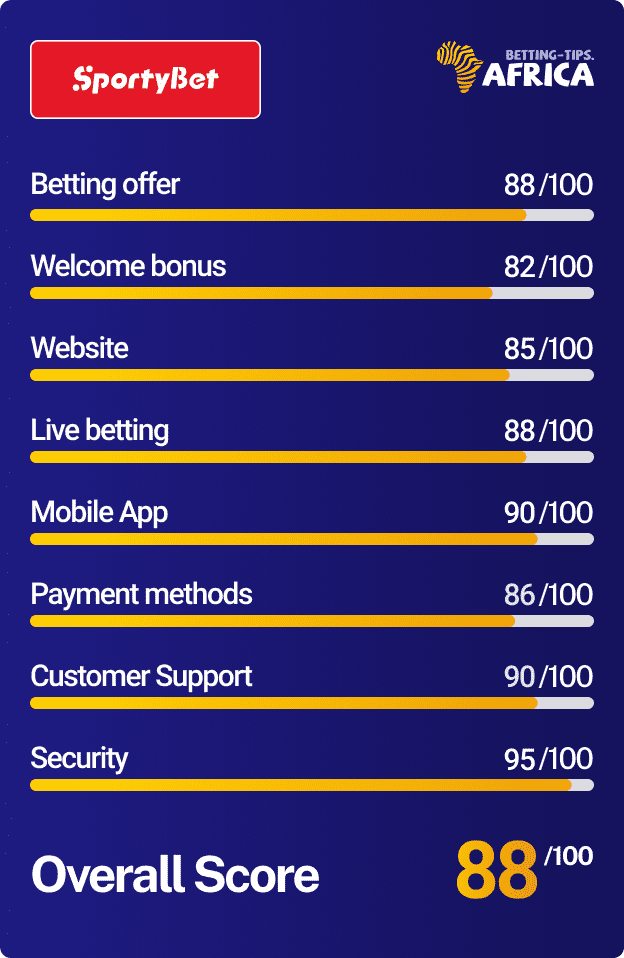 SportyBet is one of the leading online bookmakers with a presence in various African countries including Ghana, where they are fully licensed by the Gaming Commission of Ghana under the Gaming Act, 2006 (Act, 721).
Sportybet Ghana offers quite an extensive list of sports and betting options for punters and lovers of virtual betting.
Tip: find daily predictions and odds on our best football tips for today section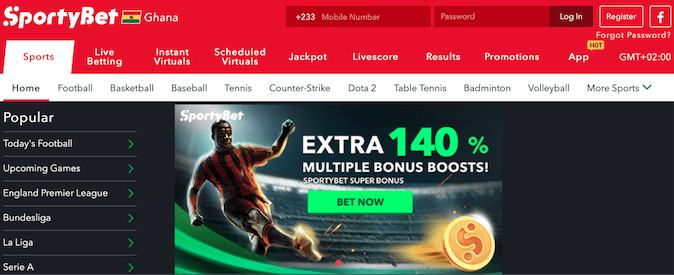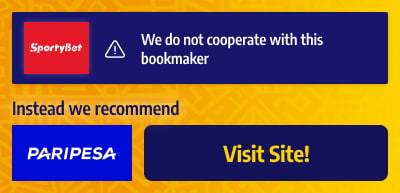 Most important Pro & Contra
has an easy to use website and mobile app
offers very competitive odds
great product offering that covers sports and virtuals
varied payment options
customer support can be a bit slow
Sportybet quick facts
Year of foundation: 2012
Licences: Gaming Commission of Ghana. Also licensed to operate in other African countries
Located: Ghanaian HQ is in Accra. Other African countries also have their respective HQs
Security: regulated and monitored by the licensing authorities
Registered customers: > 200,000
Odd payout: approx. 94%
Sportybet welcome bonus Ghana: 150% of the First deposit Bonus (status March 2023) – check for updates on the Sportybet website
Website address Sportybet Ghana: www.sportybet.com.gh
1) What is the offer of Sportybet Ghana?
Live Betting
Sports include Football, Basketball, Tennis, Rugby, Cricket, Volleyball, Ice Hockey, Darts and Beach Volleyball. They have both the Single-View and Multi-View options on their live betting platform which only enhances the user experience. Stats and match trackers are also available for ease of reference when placing live bets. Although the betting offer is a bit limited
Cashout
Cashout is a fantastic real-time feature that allows you to take control over your bet. You can use it to guarantee yourself a profit, or cut your losses when things are going South with your prediction(s).
Sportsbook
Sportybet provides the best sports betting experience in Ghana. They cover sports such as Football, Basketball, Tennis, Rugby, Cricket, Volleyball, Ice Hockey, Handball, Darts and Beach Volley. Although the sports offer is a bit limited
You can also choose a Sport that you fancy and can see a list of the most popular matches in that category. You can also refine your search by using the filters for start time, today and upcoming games and/or league to search for your preferred sporting events.
Stake Limits
The amount of a Total Stake must always be between GHS 1-12,500. The value of every single stake cannot be less than GHS 1. Click on "Place Bet" and "Confirm" the bet to place it.
A message will be displayed to inform whether a bet has been successfully placed or not. You will also get a booking code that can be shared with your friends.
Instant Virtuals
In Sporty Instant Virtuals, each round has 10 matches. Each round has a live video that takes about 25 seconds, with all matches running concurrently, but as this is instant virtuals, you can click the skip button to skip the live video and get a result right away.
The live video of each round will be randomly selected from the matches which you bet on. In the event that you bet on multiple matches, the match with a green football next to it is the one the live video is being shown for.
Jackpot
The SportyBet Jackpot Competition consists of predicting the results of 11 matches, which are selected by SportyBet, every week.
To participate, you must be registered and have at least GHS 1.00 in your account. If all the 11 match results are predicted correctly, the Jackpot winner wins the Super Jackpot prize. Customers that get 9 or 10 correct are also awarded bonuses that are shared out for each category.
Go to our overview and find a lot of other betting sites in Ghana
Sportybet.com sports offer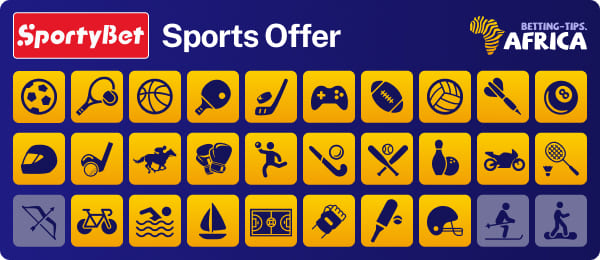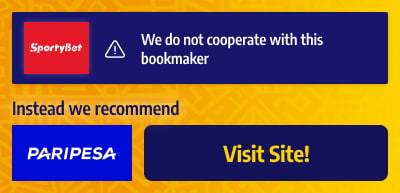 2) How to register and login at Sportybet Ghana?
Registration on Sportybet Ghana is as easy as it gets. It is literally a one-click process. On the website, click on the Register icon at the top right corner. Input your Ghanaian mobile number and set your preferred password and then click on Create Account.
An account creation token SMS will be sent to you, enter it in the field provided on the next page and click on "complete registration".
Your account will automatically be created. You can then proceed to log in with the details you provided and to make a deposit using that mobile number to your account.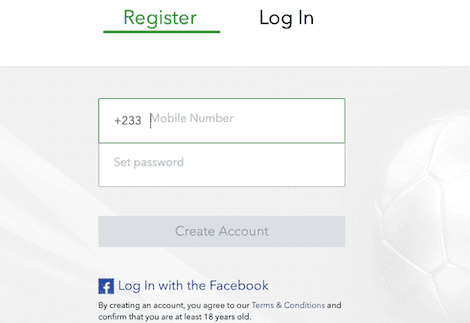 3) Sportybet welcome bonus Ghana
First, the good news for all customers at Sportybet Ghana: earn 150% of the First deposit! (status March 2023) – check for updates on the Betpawa website
Welcome bonus Ghana 🇬🇭
not available at the moment
TIP: More industry-standard promotions such as a first deposit bonus or a free bet on registration options can be found on our dedicated page!

4) Does Sportybet have a mobile App??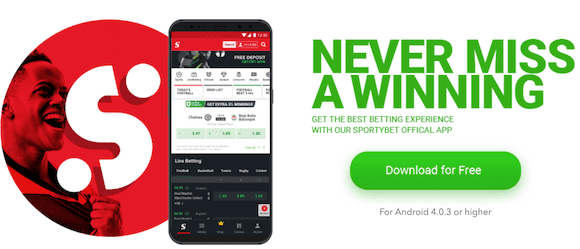 Yes. You can download the mobile app from the website by clicking on the App tab which will open for you a page similar to the one below. Click on Download for Free and start enjoying the experience on the mobile app.

Here are more details for the Sportybet mobile app
5) Which payment methods does Sportybet offer??
Sportybet offers two major payment options for both deposits and withdrawals, thus the mobile payment methods and payment by cards (Visa and Mastercards).
For Mobile payment methods, it is either through the phone or online from their website. You need to be registered with any of the following mobile money providers for you to be able to transact successfully with them: Tigo, Airtel, MTN and Vodafone
To deposit using a Paybill, please follow the below steps.
Step 1: Dial the number *711*222#;
Step 2: Enter the amount you wish to deposit into your account;
Step 3: Follow the instructions on your mobile phone to complete the transaction.
Please note that you can only use the same mobile number as your Sportybet account's to top up. If you use other phone numbers to deposit and it is successful, a new account will be created and a password will be sent to the corresponding new phone number via SMS.
For the mobile payment methods, all deposits and withdrawals are processed free of charge
The minimum deposit amount per transaction is GHS 1; the maximum is GHS 20,000.
Minimum withdrawal amount per transaction is GHS 1; the maximum transaction is GHS 10,000
To deposit using cards ( Visa or Mastercaids),
Step 1: Enter you Visa or Mastercard number in the first box.
Step 2: Enter your card expiry date and CVV code and save
Note that the name associated with your deposit will be used as your Sporty account name. You will only be able to withdraw back to this name.
The minimum per transaction is GHS 1.00
The maximum per transaction is GHS 20,000.00
Be reminded that, your bank may apply a GHS 2.50 surcharge. Any such fee is neither controlled nor received by Sportybet.
6) How to contact Sportybet Ghana?
If you need to get in touch with Sportybet support regarding your bets or any other issues, you can get them through their various social media platforms or through email or by calling them directly on their telephone numbers.
Their response times sometimes, however, leave a lot to be desired so they certainly get a negative rating here.
Sportybet support contact numbers and addresses
You can get them on any of the below contact details:
1) Live Chat
2) Email: ghana.support@sportybet.com
3) Facebook: https://www.facebook.com/sportybetgh
4) Twitter: https://twitter.com/sportybetgh
5) Telephone: 0540134222
7) Is Sportybet serious and secure?
Sportybet meets the criteria of a safe and secure bookmaker. They are fully licensed to operate in Ghana as well as other African countries and they have fully integrated their payment systems with leading Mobile Money operators like Tigo, Airtel, MTN and Vodafone.
We would like to enforce that with some facts and findings:
Sportybet is/has…
fully licensed to operate in Ghana by the gaming commission of Ghana
a footprint in other African countries other than Ghana
have employees and head offices in all the countries of their operation
Conclusion Sportybet Ghana test
have one of the simplest registration methods
customer support available but is a bit slow and has to improve
have focussed purely on mobile payment methods and thus may lock out users that prefer to use other methods
have a great mobile app that is compatible with both iOS and Android devices
On the basis of the above, Sportybet Ghana scores 88/100 on our test