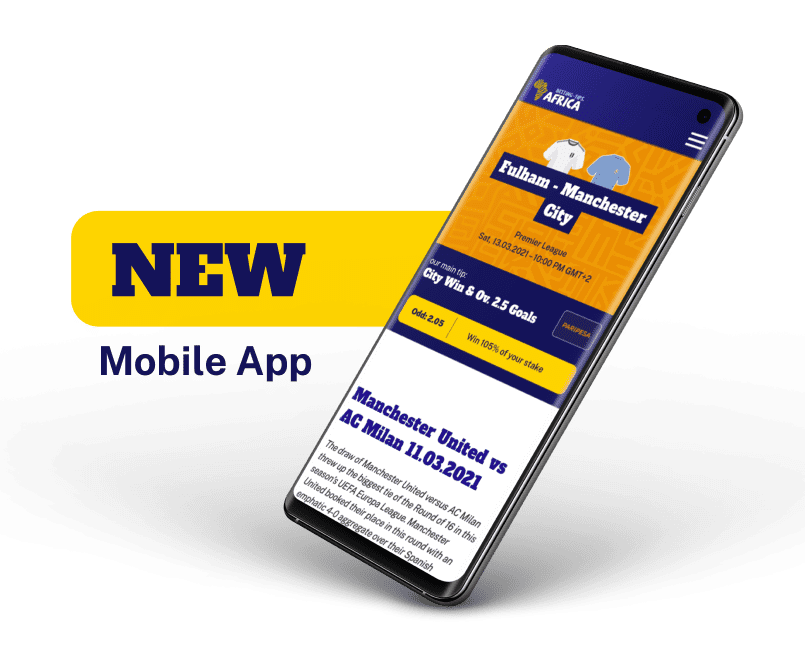 We are very proud and happy to announce that our brand new mobile app for Android is available from now!
You can download the Android apk file and enjoy the full content from BTA free of cost & without any restictions!
Details for APK download
Conditions:
What
: Mobile app for all Android devices
Costs
: free of charge for all users from BTA
Availability
: in all Countries World wide
System requirements
: Android 4.1 or higher and stable internet connection
App size
: 5,7MB
How to download:
// Go to your smartphone settings
// Accept apps from unknown sources
// Click DOWNLOAD NOW
// Install the app
// Enjoy full offer of BTA on our app 24/7
Min. Deposit and Odds:
no restrictions
What's the offer of Betting-tips.africa Android app?
We are a platform that gives our users well-researched and analyzed betting tips and excellent betting site reviews on the best betting sites operating in Africa. We do review bookmakers operating in Nigeria, Ghana, Kenya, Tanzania, South Africa, Uganda, and many other markets in Africa.
The betting tips are coming from our well-experienced experts of many years. The website really helps punters to select the right and most trustworthy bookie that fits them in their jurisdictions and the one with the best offers, and promotions to take full advantage of them. They have mentioned comprehensively the product offerings the sportsbooks have on their platform and markets available in those events.
We provide content about the enticing bonuses and deals that the bookies are offering on their website. This is for both already registered and new clients. We talk of the welcome incentives, accumulator bonuses, deposit bonuses, cash return deals, and bonuses in other products. There are also offers where you get extra bonuses by accessing them through our site.
The betting tips Africa has articulated on the safest, stable, and secure payment channels for the betting sites. We have mentioned the most popular, free, and fast platform to make your withdrawals and deposits on your betting account. These include, for example, mobile money channels, bank wire transfers, visas and master cards, and other online payment types.
We have gone the extra mile to scrutinize the bookmaker sites' betting apps. We have simplified and elaborated the ways to downloads those Apps and their availability for both Android or Apple IOS phones.
Imagine now having all these pieces of information just an App away. You can now be able to access our full site for info about bookmakers and free betting predictions by using our BRAND NEW APP. We developed a user-friendly and easy-to-navigate mobile App for you. Visit our site and download it and enjoy interacting with betting-tips.africa