Our Coupe de France page gives well-researched insights into the history, playing format and other important information about the premier knockout competition in French Football. Our predictions and analysis are handled by experts who dig deep into vital information on various teams taking part in the tournament. If you scroll down further, you will find various betting options with a high profit probability. Find out how to predict straight win in our overview.
Click here if you are interested in seeing all of the best Coupe de France odds from the most popular bookmakers.
List of Coupe de France Tips
With only 1 win in their last 5 games (D2 L2), Lorient's form is wanting at this stage of the season. In the previous round of the Coupe de France, Lorient needed post-match penalties to edge out Ligue 2 side Bastia after a 1-1 draw. Furthermore, the home side could only manage a 0-0 draw ... More
What kind of Coupe de France tips do we offer?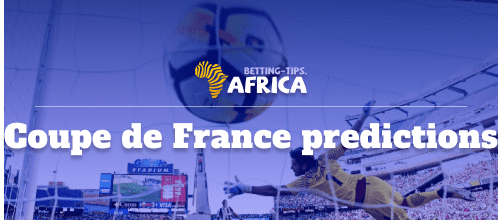 You can find a wide range of options to bet on the Coupe de France like:
Single Bets and odds betting tips
1×2, double chance, both teams to score, over & under, combo, correct score, halftime/fulltime, number of goals, anytime scorer, handicap, draw-no-bet, corner among others.
Accumulator bets and odds tips
This is a combination of multiple betting selections in order to get higher odds for higher winnings. If this will be viable winning option in the Coupe de France, we will let you know in our tips.
System bets and odds
System bets like 2 out of 3 or 3 out of 4 are sometimes very advisable as you can combine more matches on your betting slip and take a higher risk. If the "risky bet/match" goes wrong, you do not lose the bet as you got one chance of failure.
What do we analyze in our Coupe de France tips?
Our experts provide out an in-depth examination of various matches focusing on key factors such as head to head stats , possible squads, recent performance, injured or booked key players, and lots more, to help you make a more informed betting decision.
Furthermore, we dive deep into previous Coupe de France games, home and away results. We then provide accurate insights on bookmakers and the odds they are offering. In addition, we compare these odds, analyze the chances and help you decide which one to choose.
For whom are the Coupe de France tips made?
We focus on users from various African countries: Kenya, Nigeria, Ghana, South Africa, Tanzania, Uganda among others.
Moreover, our betting professionals want to share their knowledge with you! The goal is to develop a very strong and experienced community of betting enthusiasts. You can take a look at the best betting sites in your country to enjoy amazing offers.
More about the Coupe de France
The Coupe de France is the first knockout competition in French Football. Also known as Coupe Charles Simon, the inaugural edition of the tournament was held in 1917. The first Coupe de France winners were Olympique de Pantin who defeated FC Lyon 3–0 at the Stade de la Légion Saint-Michel in Paris.
The competition was declared open to all clubs in France, amateur and professional. Since there are more amateur than professional clubs in France, and the competition regularly produces major upsets and surprises. Despite their number, only three amateur clubs have reached the final since professionalism was introduced in French football in 1932: Calais RUFC in 2000, US Quevilly in 2012 and Les Herbiers VF in 2018. Two clubs from outside Ligue 1 have won the competition, Le Havre in 1959 and Guingamp in 2009. The reigning champions are Paris Saint-Germain, who defeated Monaco in the final of the 2020–21 competition.
The winner qualifies for the group stage of the UEFA Europa League and a place in the Trophée des Champions match. A concurrent women's tournament is also held, the Coupe de France Féminine.
Eligibility
The competition is organised by the French Football Federation (FFF) and is normally open to all clubs in French football, as well as clubs from the overseas departments and territories (Guadeloupe, French Guiana, Martinique, Mayotte, New Caledonia, Tahiti, Réunion, Saint Martin, and Saint Pierre and Miquelon).
Professional clubs have continued to express their displeasure with the advantages amateur clubs receive in the competition with many of their complaints being directly associated with their hosting of matches.
Playing Format
Like other countries' cup competitions, the Coupe de France is a knockout tournament with pairings for each round drawn at random. Each tie is played through a single leg. If a match ends in a draw, penalties are played.
There are a total of 14 rounds in the competition. However, rounds in the competition are determined through each region in France with one of the main reasons being to reduce travel costs. Depending on the region, the number of rounds may vary from four to as many as eight with each region sending a set number of clubs to the 7th round. The regions conduct rounds of matches up until the 7th round when professional clubs enter the competition.
For the 2021/22 season, teams from districts and regional leagues will enter the competition from the first two rounds. Teams from lower divisions within France will lock horns in the third to fifth round while League 2 teams will join at the 7th round. For those in the top flight, also known as Ligue 1, they will enter from the round of 64 stage.
More about Coupe de France betting
The Coupe de France is a financially strong competition. However, it does not have the same monetary incentive as Ligue 1 and the Champions League. Betting activities are strictly monitored by companies for to prevent fraud.
Our tips are only suggestions. Please do not blindly follow our analysis but think carefully before placing a bet. We are not liable for any losses you might incur. You need to be 18+ to be allowed to place a bet. Terms and conditions of respective bookmakers apply.
Increase your returns with our free Ligue 1 predictions and feel free to look at the bottom of the page for more bookmakers in your country and there special offers. Nevertheless we also recommend you to always read the terms and conditions from your bookmaker of choice to ensure you do not make uninformed bets or promotion mistakes.
Our team of tipster looks to provide you with Coupe de France Prediction that you can't find anywhere else. These are unique Coupe de France facts for today and tomorrow we predict various aspects from line ups to past h2h, looking to provide you with the most accurate predictions for Coupe de France games played every month.