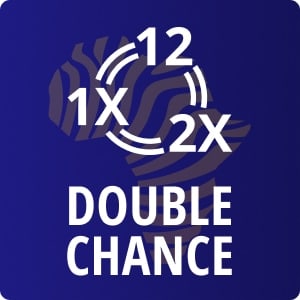 Double chance bets are a type of bet that combines two out of three possible outcomes of a three-way bet (1X2) under one bet. Instead of picking the usual Home win (1), Draw (X), or Away Win (2), you are allowed to wager two out of these three possible outcomes as one bet. The combinations are: Home or Draw (1X), Away or Draw (X2), and Home or Away (12).
As long as either of the two outcomes you have combined occurs, your bet wins. With double chance, you increase your chances of winning the bet and it is also a great way to reduce risk.
DC predictions today & tomorrow
Stuttgart has not yet faced a serious opponent since kicking off this tournament until this week on Wednesday where they will be facing Dortmund in the round of 16. It can not be left unnoticed that Stuttgart is among the successful football clubs in this competition as it has been in the finals 9 times ... More
If you are interested in betting on matches with double chance, we strongly advise you to check out our list of bookmakers that offer a free bet bonus on registration first and get a bonus for yourself, so you can fully minimize your chances of losing.

Double Chance bets explained
Double Chance allows you to use one bet to cover two of the three possible win-draw outcomes in a match. The options are as follows:
Home or Draw (1X) – Your bet wins if the home team wins or the game ends in a draw
Away or Draw (X2) – Your bet wins if the away team wins or the game ends in a draw
Home or Away (12) – Your bet wins if either the home or away team wins
Bear in mind that the odds for Double Chance bets are lower than those for three-way bets. For example:
Liverpool vs Everton, Odds: Liverpool Win (1) 1.90, Draw (X) 3.20, Everton Win (2) 4.00
Double Chance Odds: Liverpool or Draw (1X) 1.35, Everton or Draw (X2) 2.05, Liverpool or Everton (12) 1.50
As you can see, the odds are significantly lower for double chance bets but the possibility of winning is higher.
Double Chance bets are settled based on the match results at full-time. Extra time and post-match penalties do not count.
Read about the best betting sites on our page to help you find the highest odds for double chance and other bets
Double Chance betting strategies
Here, we explain the best strategies to use with double bets to increase your chances of winning.
Home team advantage
In general, teams have a better chance of winning at home or at least avoiding a loss. Similarly, teams are more likely to lose away compared to home. However, due to relative strengths, a home win may not be so obvious in some cases. Instead of a home win, the game may also end in a draw. In such a situation, a double chance bet presents a better way of covering your risk. A bet on Home or Draw (1X) will ensure you stand to win in case of either outcome. Get an idea about it by reading the best football betting tips for today on our homepage
Nearly matched teams
Betting on nearly matched teams can be tough since there is no obvious difference to help you pick the winner. There are games that show no clear favourite from the three-way odds. The usual considerations like team form, league position, and the number of points could also be just about the same. In such a situation, picking one outright outcome is hard and a double chance bet would be a better option. You can pick either team to win with a Home or Away (12) pick.
Dominant Teams
There are teams that may outrightly dominate their league or competition for a season or more. Such teams rarely lose a game so in most cases they will win or draw. A good example is Bayern Munich in Bundesliga which they have completely dominated over the past 8 seasons winning all the league titles in the process. Picking a dominant team to win is a good bet in most cases. However, there will be those few games that look tough even for them and a win may not be obvious. A double chance bet will ensure you are well covered. For example, if the dominant team is playing away to a strong rival, an Away or Draw (X2) bet is recommended.
Team form
Teams sometimes hit a rich vein of form and go on a long unbeaten run of games. They are able to get good results against any opponent that comes their way. If you are unsure about a team winning a particular match but they have been enjoying good form, a double chance bet can be used to give them a win or draw. Betting against a team enjoying a good run of form to lose is risky. Generally, teams tend to fight hard to protect their unbeaten run, especially when they are targeting a certain record. They are likely to earn draws in games that they were about to lose. Therefore, a double chance bet of win or draw can be used in such cases to increase your chances of winning the bet. Remember, team form can also be negative, such that a team goes for a long run of games without winning. In such a case, the double chance bet is in favour of the opponents.