Get ready football fans, because the race for the 2026 World Cup has began! The World's most prestigious tournament will be bigger and better than ever, with a whopping 48 participants vying for the glory on the grandest stage of them all. From Africa to Europe, teams from across the globe will battle it out in thrilling qualification rounds, showcasing their skill and determination to secure a coveted spot in this historic event.
The 2026 FIFA World Cup will be held in the three North American Countries (Mexico, United States and Canada) from June to 19 July 2026. This will be the 23rd edition of the men's football tournament that draws qualified national teams of FIFA member countries from across the world. The tournament is held every 4 years and is hosted by a country selected by FIFA. With an expanded format that includes 48 participants, the competition is set to reach new heights. So fasten your seatbelts and join us as we dive into the exciting world Cup qualifiers for 2026 which will commence in September 2023 and end in March 2026. An overview for all Leagues can be found on our Football predictions page

World Cup Qualifiers predictions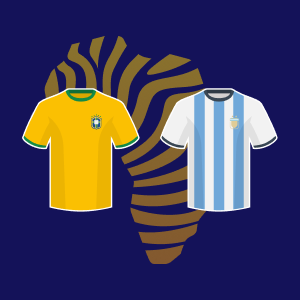 Eternal rivals, Brazil and Argentina will renew hostilities when they face off in their latest meeting. The Brazilians will ask a lot of questions of the Argentines in a match that promises to be exciting. Brazil are third with seven (7) points in the South American qualifying zone, five points adrift of their opponents Argentina ... More
Qualification for FIFA World Cup 2026
Qualification for 2026 FIFA World Cup is based on the 6 continental football federations under FIFA: CONCACAF, AFC, CAF, OFC, CONMEBOL and EUFA. Each continental federation is given an agreed number of slots out of the total number of 48. Member nations compete for these slots for the right to participate in the main event. The host nations qualifies automatically. The continental regions are:
Africa – 9 teams
Europe – 16 teams
Asia – 8
North, Central America, and the Caribbean – 6 teams
South America – 6 teams
Oceania – 1 team
In order to secure a spot in the tournament, national teams will have to navigate their way through various qualifying stages specific to their respective confederations. Each confederation has its own unique format and criteria for determining which teams will earn their place on the world stage. This is commonly done through group matches, league format, or knockout matches.
The numbers above accounts for only 46 of the 48 required teams. With the remaining 2 teams to be seeded by a 6-team play-offs in the FIFA playoff Tournament – teams to be selected based on FIFA's proposal:
1 team from each confederation except UEFA
1 team from host's confederation (CONCACAF)
Out of this 6 teams, 2 teams will be seeded based on FIFA ranking
Latest betting predictions
| Match | Date | Prediction |
| --- | --- | --- |
| Luton vs Arsenal prediction | Tue, 05.12.2023 | Correct Score 0-2 |
| Leverkusen vs Paderborn prediction | Wed, 06.12.2023 | Handicap -2 Leverkusen Win |
| Sheffield United vs Liverpool prediction | Wed, 06.12.2023 | HT/FT – Liverpool/Liverpool |
| Stuttgart vs Dortmund prediction | Wed, 06.12.2023 | Both Teams to Score |
| Aston Villa vs Manchester City prediction | Wed, 06.12.2023 | Over 2,5 Goals |
| Manchester United vs Chelsea prediction | Wed, 06.12.2023 | Under 3,5 Goals |
| Tottenham vs West Ham prediction | Thu, 07.12.2023 | Tottenham Win (DNB) |
| Juventus vs Napoli prediction | Fri, 08.12.2023 | 1st Half Draw |
Africa qualification format
Africa is allocated 9 slots out of the final 48 teams to participate in the 2026 FIFA World Cup. There are a total of 54 national teams that are members of the Confederation of African Football (CAF) competing for the nine places available. All the 54 member associations of CAF entered qualification. The seeding was done based on FIFA rankings.
The qualification format used by CAF for the 2026 FIFA World Cup is divided into three stages:
First Stage (Group Stage)
In the first stage, all 54 national teams are divided into 9 groups of 6 member teams each, based on the FIFA ranking. Each group plays against each other in a home-and-away format, with the group winners securing automatic qualification for the 2026 FIFA Men's World Cup. The first stage will start from 13th November 2023 up until 25th March 2025.
Second Stage (4 Best Runners-up Play-Offs)
In stage two, the four best second-placed teams from the group stage will enter into a play-off stage to decide the one team that will be representing CAF in the FIFA play-off tournament. The play-off winner will proceed to compete with other 5 members who will be representing other confederations. The knockout games will be held from 1st September, 2025 to 14th October. 2025.
Third Stage (FIFA play-Offs)
Stage three is where it gets really intense as the 2026 FIFA World Cup draws nearer. The winner form stage two goes to represents CAF in the FIFA play-off tournament to compete for the remaining 2 out of the 48 participating slots in the 2026 FIFA Men's World Cup. The third round matches will be played on 10th-18th November 2025.
Europe qualification format
Europe takes the lion's share of the expanded 48 world cup slots available to FIFA members. The Union of European Football Associations (UEFA) will produce 16 teams for the tournament. All 55 member nations of UEFA will enter qualification to compete for the available slots. On 25 January, 2023, the UEFA Executive Committee presented the revised qualification format due to the expanded qualifying slots from13 to 16. The updated qualification path also follows UEFA's usual format of Group Stage and Playoff Stage. The results of the 2024/2025 UEFA Nations League will be factored into the qualification process.
Group Stage
There will be 12 groups comprising 4 or 5 teams each. The top 4 teams from the UEFA Nations League finals will be placed in smaller groups. The 12 group winners will earn an automatic qualifying spot for the World Cup. The 12 group runners-up proceed to the playoff stage.
Playoff Stage
The playoff stage is contested by a total of 16 teams. These include the 12 runners-up from the group stage plus 4 highest ranked UEFA Nations League group winners who fail to finish in the top 2 of the world cup qualifying group stage. The 16 teams at this stage are divided into 4 groups. In each group, the 4 teams are paired and they play each other in a one-legged knockout format of semi-finals and finals. The 4 winners from each group qualify for the world cup. They join the winners from the group stage to make it 16 European teams at the world cup.
Our World Cup qualifiers predictions

Africa
After a successful CAF Draw for the FIFA World Cup 26 which took place in Abidjan, Cote d'Ivoire, the group stage matches is poised to bring together some interesting matchups. Only 1 team can proceed from each group so some big names are likely to miss out. Continental giants Nigeria and South Africa are both in Group C; Algeria battles Uganda in Group G, Morocco will clash with Zambia, and Ghana will face Mali in Group I. The other top teams have relatively easy groups that they are expected to win. y
Our World Cup qualifiers predictions for Africa
From the qualification path, the most likely teams to qualify for FIFA World Cup 26 from Africa are; Morocco, Algeria, Ghana, Nigeria, Cameroon, Senegal, Code d'Ivoire, Tunisia, Egypt, and South Africa. You can also dive into our top-notch AFCON tips for some sure wins in the ongoing African Cup of Nation's qualifiers!
Europe
The European format gives a second chance to big teams that fail to top their qualification groups to qualify via the playoff stages. This means that there will be competition for the top 2 slots of each group.
Our World Cup qualifiers predictions for Europe
The 12 teams that are likely to top their respective groups are: Portugal, Czech Republic, Spain, Italy, France, Belgium, Denmark, England, Germany, Serbia, Switzerland, and Croatia.